Metalcraft Industries Releases Twistakes for the 2012 Campaign Season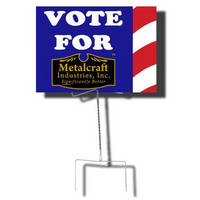 In time for the 2012 election season, Metalcraft Industries, a custom manufacturer of metal sign products, introduces the "Twistake": A completely green stake solution for outdoor temporary signs.

It is hand crafted using a non-electric tool to twist and bend the steel into shape with no welds making it stronger than conventional wire stakes. The galvanized steel used in the production of the Twistake comes from secondary wire that has been rejected due to being off by a few thousandths of a gauge. The stake's unique center clip design keeps the sign in place and the step wires allow for easy ground penetration and stability. The twisted shaft reacts like a spring by bouncing back into place when bent by wind or other elements. The 9 gauge flute wires guarantee a tight fit for 4 mil corrugated signs.

With the flexible shaft, lack of breakable welds, and durable galvanized steel wire the Twistake can be used over and over reducing the need for a new stake. Add to that the no energy production process and the Twistake is one of the most environmentally friendly sign stakes available.

The Twistake is specially handcrafted in Daytona Beach, FL by disabled Americans. This process provides vocational rehabilitation in an industrial setting and allows the recipient to improve their work skills while earning a paycheck.

Metalcraft Industries, Inc., founded in 1997 in Ocala, Florida, manufactures high quality metal products for the sign industry including scroll brackets, sign frames, sign stakes, aluminum blanks, vinyl racks, and substrate storage racks. Metalcraft specializes in custom products at production prices. Metalcraft's policy is to be the leader in innovative metal products for the sign industry by surpassing customer expectations for quality, service and product value. View all of Metalcraft Industries, Inc.'s products at www.metalcraftindustries.net.

More from Controls & Controllers