Metal Resistor is suited for current sense applications.
Press Release Summary: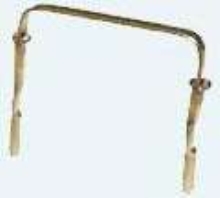 Featuring open air design, BR Series flameproof current sense resistor has resistive element with off-board design that keeps hot spot safely off PC board. Product, rated from 1-5 W @ 85ºC, withstands up to 70 A of current and offers resistance values from 0.005-0.1 ohm. Series features tolerances down to ±1%, TCRs as low as +20 ppm/ºC and operating temperature range of -40 to +125ºC. It is suited for motor control and power regulation applications.
---
Original Press Release:

Stackpole Electronics, Inc. Introduces Metal Resistor Technology for Current Sense Applications


Open Air Design Allows for Cooler Operation...

RALEIGH, N.C. (March 10, 2005) - Stackpole Electronics, Inc. has introduced a new flameproof, open air current sense resistor technology ideally suited for high current motor control and power regulation applications.

Designated the BR Series, these current sense resistors are capable of withstanding 70 amps of current are rated from 1 to 5 watts at 85ºC with resistance values from 0.005 ohm to 0.1 ohm and tolerances down to ±1 percent. They feature TCRs as low as +20ppm/ºC. Operating temperature range is -40ºC to +125ºC.

The BR Series of resistors features a resistive element with a unique off the board design that keeps the resistor's "hot spot" safely off the PC board and allows air to circulate around it, contributing to cooler operation.

Applications for the BR series include: large portable electronics, power supplies, servers, satellite communications, window lift and sunroof motors, wiper controls, power steering systems and anti-lock braking systems. The BR Series is typically used in current sense, feedback and surge protection circuitry.

Typical pricing for the BR Series of resistors is approximately $.15 in quantities of 5,000, with delivery times 6 of 8 weeks. Samples of standard products are available immediately.

For more information about Stackpole products, contact Stackpole Electronics Inc. at 3261 Atlantic Avenue, Raleigh, N.C. 27604; phone 919-850-9500; fax 919-850-9504; email marketing@seielect.com; or visit the Web site at www.seielect.com.

Stackpole Electronics Inc. is a leading global manufacturer of resistors supplying to the world's largest OEMs, contract manufacturers and distributors. Headquartered in Raleigh, N.C., the privately held company began manufacturing in 1928 as part of Stackpole Carbon Company in St. Mary's, Pennsylvania. Now affiliated with Akahane Electronics, Stackpole has manufacturing facilities in Japan, Taiwan, China and Mexico; warehousing facilities in El Paso, Guadalajara, Hong Kong and Japan; and sales offices in Tokyo, Hong Kong and Taiwan.

Sarah Mobley
PR Coordinator
BtB Marketing Communications, Inc.
900 Ridgefield Drive, Suite 270
Raleigh, NC 27609
P: 919.872.8172
F: 919.872.8875
www.btbmarketing.com

More from Electrical Equipment & Systems