Metal Halide Mini-Light Tower illuminates over 3 acres.
Press Release Summary: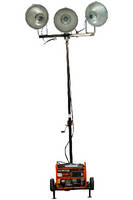 Equipped with 3,250 V generator, Model WAL-ML-3XM-3G utilizes three 1,000 W metal halide lamps to produce 330,000 lm in large flood pattern. Adjustable lamp brackets allow operator to adjust each lamp independently. When elevated to full 12 ft height, tower can illuminate 3 acres of work or event area. Tower and base assembly is constructed of powder-coated steel with rubber tires for mobility. Operating for 9+ hr on one tank of fuel, generator includes 120 Vac outlets to run additional devices.
---
Original Press Release:

Larson Electronics Announces Release of 3000 watt Metal Halide Mini-Light Tower



Larson Electronics' has announced to day the released a mini light tower equipped with an onboard generator and 3,000 watts of metal halide lighting fitted to an adjustable tower assembly. The WAL-ML-3XM-3G 3000 Watt Mini Light Tower is a powerful yet fully portable lighting system that allows operators to illuminated over 3 acres effectively without the need for external power sources or dedicated towing packages.



The WAL-ML-3XM-3G mini light tower from Larson Electronics provides operators with a powerful and easily transported lighting system that offers the power of a full size lighting system in a compact and self powered package. This mini light tower features big output from a small size with three 1,000 watt metal halide lamps powered by a single generator producing over 3200 VA, and an adjustable light tower boom that can be elevated up to 12 feet in height. This unit produces 330,000 lumens of intense light output in a large flood pattern, and when elevated to its full 12 foot height can illuminate 3 acres of work or event area effectively. The tower and base assembly is constructed of powder coated steel for durability and high strength, and the extendable light tower is raised or lowered using an included hand winch for easy deployment. A heavy duty mounting arm on the top of the mast provides a secure platform for three included metal halide lamps, and adjustable lamp brackets allow the operator to adjust each lamp independently of the other for maximum coverage. The base of the tower is fitted with a 3250 VA generator, heavy duty rubber tires for easy mobility, and a pair of ballast boxes, resulting in the majority of the units' weight distributed to the base for added tower stability. The tower generator  also includes additional 120 VAC outlets to allow operators to run additional devices and equipment if desired. The included generator makes this a truly standalone lighting system and allows operators to provide illumination anywhere it is needed for up to 9 or more hours on a single tank of fuel. This is also an easily transported unit, with a removable lamp assembly and collapsing tower boom, which allows users to break down and transport the entire system in the back of vehicles as small as a Jeep Cherokee if needed. This mini light tower is an ideal solution for those who work large scale outdoor sites and events, yet find access to local power sources impractical or unavailable. The WAL-ML-3XM-3G is well suited to use on construction sites, outdoor events, emergency scenes, and just about anywhere fully portable lighting is required, and provides the easy transport and setup needed for fast deployment.



"The WAL-ML-3XM-3G mini light tower is ideal for operators that don't want a towable light plant," said Rob Bresnahan with LarsonElectronics.com.  "We are trying to offer operators the ability to transport and position lighting where they need it.  A typical light plant has 4 heads and diesel generators.  Diesel generators can require a knowledgeable diesel mechanic.  We are outfitting these 2 and 3 head light towers with simple, quiet gas powered Generac generators.  The run a long time and can be used to plug in other tools.  Most importantly, a contractor can throw 4 of 5 of these in the back of a pickup truck and deploy them all over the worksite in a single trip.  With a towable light plant, each site needs a dedicated trip.  Each have their own benefits, but the mini-light tower offers simplicity, affordability and portability."



Larson Electronics offers a wide selection of HID work lights, HID light towers, explosion proof lights, HID flashlights, intrinsically safe LEDs and LED work lights. The entire Larson Electronics line of industrial grade lighting equipment can be viewed by visiting them on the web at Larsonelectronics.com. You can also call 1-800-369-6671 to learn more about all of their lighting products or call 1-214-616-6180 for international inquires.

More from Packaging Products & Equipment