Metal Fabricators Protect Employees and Capital Investment with Omron's Annual Machine Safety Check-Up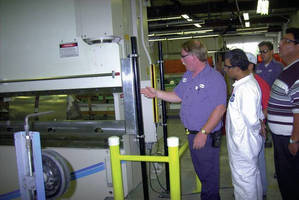 FREMONT, CA – Omron Safety Services offers manufacturers in metal fabrication and forming industries a cost effective inspection service to ensure that metal fabrication and forming machines such as press brakes, presses, shears, stamping and cutting machines are safeguarded to the regulations, and thus keeping employees safer while protecting their investment in machinery.



An experienced Omron safety system field inspector performs Omron's Annual Machine Safety Check-up Service. This value-added service consists of an inspection of the machine's safeguarding systems, including: safety device applications, fixed and moveable guards and compliance, visibility of hazards, point-of-operation and perimeter guards, energy isolation devices, emergency stop, mechanical power and transmission guards. Omron's field inspector also reviews any modifications to the machine's location, uses and addition/removal of peripheral or auxiliary equipment



After the inspection is complete, companies receive a safety system check up report with pass/fail compliance for each inspection checkpoint, along with recommendations or corrective action recommendations for any failed checkpoints. All machines that are compliant with the current safeguarding regulations will receive a dated validation sticker to be placed on the machine.



How Companies Benefit:

• Maintain plant operator machine safety

• Maintain records of OSHA and ANSI standards compliance

• Maintain the value of the initial safety investment and prevent losses

• Peace of mind: safety systems are verified for proper operation and functionality

• Inspection performed by the experts and a documented inspection report provided



Omron's Annual Machine Check-up Service identifies potential safety issues, but does not include repairing, adjusting, or replacing guards and devices, implementing corrective action, or performing stop time measurements. Omron safety experts in a separate follow up service can perform corrective action and stop-time measures.



MEDIA CONTACTS:

Julie Eleftheriou | 952-913-3065 | jeleftheriou@longrenparks.com



About Omron Safety Services



At Omron Safety Services our mission is to keep workers safe and highly productive on the factory floor while helping companies reach their safety and productivity goals. We accomplish this by performing machine safety integration and inspections for major corporations around the world. Our years of experience has helped us to develop effective, documented and detailed processes to ensure quality and customer satisfaction. For more information, visit http://safetysolutions.omron.com/americas, contact us at info@safetysolutions.omron.com or call 714-693-1041.

More from Electrical Equipment & Systems