Meshing Software features native interfaces to CFD codes.
Press Release Summary: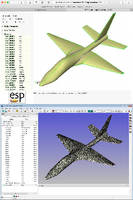 Capable of generating structured, unstructured, and hybrid meshes, Pointwise v17.3 R4 includes open source PyFR advection-diffusion solver as native interface. Program also includes support for Engineering Sketch Pad, an open-source, browser-based, constructive solid, CAD system. ESP targets multi-disciplinary analysis and optimization by aiding computation of sensitivity of objective functions (lift and drag, for example) with respect to design parameters (wing sweep, for example).
---
Original Press Release:

Pointwise Announces the Latest Release of Its Meshing Software Featuring New Native Interfaces to Computational Fluid Dynamics (CFD) Codes



FORT WORTH, TX – Pointwise announces the latest release of its meshing software featuring new native interfaces to computational fluid dynamics (CFD) codes.



"Despite being primarily a maintenance release, this new production version of Pointwise includes new native interfaces to three software packages," said John Chawner, Pointwise's president. The open source PyFR advection-diffusion solver from the Vincent Lab, Department of Aeronautics, Imperial College London (www.pyfr.org) is now included as a native interface. Backward compatibility with Pointwise's own Gridgen software is enhanced with the inclusion of a built-in interface to the so-called Gridgen Generic ASW format.



Pointwise Version 17.3 R4 also includes support for ESP, the Engineering Sketch Pad, an open-source, browser-based, constructive solid, CAD system from the team of Dr. John Dannenhoffer (Syracuse University) and Robert Haimes (MIT). ESP targets multi-disciplinary analysis and optimization (MDAO) by aiding computation of the sensitivity of objective functions (lift and drag, for example) with respect to design parameters (wing sweep, for example). ESP is available online at acdl.mit.edu/ESP.  During a visit to Pointwise this past summer, Dr. Dannenhoffer worked to ensure that IGES and STEP files exported from ESP could be meshed in Pointwise. More importantly, he worked with our programmers on computing the sensitivity of the grid with respect to the design geometry, the missing piece to couple ESP's design sensitivities with sensitivities computed in a flow solver. We intend to continue this collaboration in order to bring this unique capability into production use.



Pointwise, Inc. is solving the top problem facing computational fluid dynamics (CFD) today – reliably generating high-fidelity meshes. The company's Pointwise software generates structured, unstructured and hybrid meshes; interfaces with CFD solvers, such as ANSYS FLUENT®, STAR-CCM+®, ANSYS CFX®, OpenFOAM, and SU2 as well as many neutral formats, such as CGNS; runs on Windows (Intel and AMD), Linux (Intel and AMD), and Mac, and has a scripting language, Glyph, that can automate CFD meshing. Large manufacturing firms and research organizations worldwide rely on Pointwise as their complete CFD preprocessing solution.

 

More information about Pointwise is available at www.pointwise.com.



Pointwise is a registered trademark and Pointwise Glyph, T-Rex and Let's Talk Meshing are trademarks of Pointwise, Inc. All other trademarks are property of their respective owner.



For more information:

Andrea Alvarado

817-377-2807

news@pointwise.com

Related