MERV 8 Filter is classified as green product.
Press Release Summary: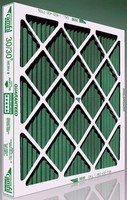 Designed as value-added upgrade from standard MERV 8s, 30/30® air filter features radial pleat design that allows full use of all-mechanical media for optimal dust holding capacity. Maintained resistance to airflow and average pressure drop contribute to savings on heating/cooling. Rated to 2.0 in. w.g. without media pack failure, solution has 5-star ECI rating and comes in 2 or 4 in. configuration. Grid is treated for corrosion protection and bonded to media to prevent oscillation.
---
Original Press Release:

New "Green" Filter is Unique Among MERV 8s



BACKGROUND: Research conducted by the National Association of Home Builders (NAHB) indicates that a majority of homeowners are willing to pay more for "green" products. On February 14, 2008, NAHB launched a major new initiative to help its members move the practice of green building, and green products, into the mainstream. Energy efficiency and indoor air quality are a major part of the initiative.

Camfil Farr, a leader in the development of residential, commercial and industrial air filtration products, has introduced a MERV 8 filter specifically designed to help HVAC contractors take advantage of this important trend.

Immediate Energy Savings and Low Life Cycle Cost Generate Strong Contractor Interest

February 11, 2008. Camfil-Farr, a world leader in filtration products for residential, commercial and industrial applications, has introduced the first true MERV 8* (ASHRAE 52.2-2007) "30/30" air filter.

The 30/30® is a high-efficiency pleated panel filter designed as a strong, value-added upgrade from ordinary MERV 8s. It has a very low initial resistance, and a low maintained resistance, to airflow, and the lowest average pressure drop of any MERV 8 filter. This translates immediately into savings on heating and cooling that are both measurable and significant - typically 25% and more for the average homeowner.

The MERV 8 30/30 filter is distinctive in having earned five stars on the ECI (Energy Cost Index+) - the best-possible performance ranking. It is positioned to have the lowest life cycle cost of any medium efficiency filter.

The design of the Camfil Farr MERV 8 30/30, with its radial pleat design, allows full use of the media for maximum dust holding capacity. Tests show the 30/30 has 30% higher dust holding capacity than conventional MERV 8 filters. This means a longer service life, and less-frequent change-outs.

The media for the 30/30 filter is "all-mechanical," rather than electrostatic, and maintains consistent, high removal efficiency throughout the filter's life. In contrast, other MERV 8s are made with electrostatically charged media, whose efficiency drops as dust loads.

Camfil Farr supports its contractor network with a comprehensive Performance Guarantee which warrants that the 30/30 will maintain its efficiency over time, and last longer, than any pleated panel filter. The filter also has very high structural integrity. The radial media pleats on the 30/30 are secured by a welded wire grid, spot-welded on one-inch centers. The grid is treated for corrosion protection and is bonded to the media to prevent oscillation.

A high wet strength beverage board frame creates a stable, non-yielding media pack. The media pack is bonded to the frame and diagonal support members are bonded to each pleat to enhance rigidity through bridge-style engineering. Filter bypass is virtually eliminated. The MERV 8 30/30 is guaranteed to 2.0" w.g. without media pack failure.

The MERV 8 30/30 is rated for low flammability by Underwriters Laboratories as Class 2, and is available in 2" and 4" configurations suitable for both residential and commercial use. Its classification as a high-quality, "green" product, and its ability to immediately reduce utility costs, makes it ideal for homeowners who are looking for ways to be more environmentally conscious, while getting excellent value in the products they buy.

The Energy Independence and Security Act signed by President Bush in late December, 2007 incentivizes consumers and business owners to upgrade their heating and cooling equipment to reduce energy consumption. It also provides a valuable opportunity for contractors to add high-efficiency, air filters to the new package.

For more information, contact Lynne Laake, laakel@camfilfarr.com or
(513) 324-8346. www.merv-8-filters.com.

More from Paints & Coatings