Meritor® EX+L Air Disc Brakes Available on Navistar's International Trucks Brands in February 2017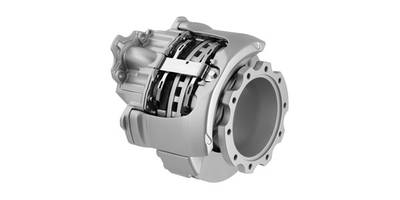 Air Disc Brakes Improve Performance and Reduce Lifecycle Costs
TROY, Mich., Feb. 27, 2017 - Meritor® (NYSE:MTOR) announced today that EX+L air disc brakes will be available on International® LT Series tractors beginning in February.
"Demand for air disc brakes is growing among North America fleets that are increasingly concerned about safety and reliability, and our market-leading brake products address these issues," said T.J. Reed, general manager, Front Drivetrain for Meritor. "EX+ will offer Navistar's customers superior performance and easier serviceability."
Built with the reliability, durability and performance that customers expect from Meritor, the EX+L delivers exceptional braking power that meets federal FMVSS 121 reduced stopping distance regulations, according to Reed. In-line braking stability offers safer, smoother stops, and high-demand applications benefit from reduced brake fade resistance.
EX+ air disc brakes are engineered from the ELSA line, Meritor's popular air disc brake solution in Europe with more than 2 million in service. EX+L brakes are built to maximize productivity by reducing maintenance time and costs. A gear-synchronized twin piston design transfers torque to both brakes simultaneously, resulting in better performance and uniform pad wear. The entire assembly is engineered for faster pad changes and quicker inspection time. A standard mechanical visual wear indicator gives fleets quick-check capability of remaining pad life without taking the vehicle out of service to remove the wheel.
In North America, 16 percent of new trucks were built with air disc brakes in 2016, up from less than 5 percent in 2011, according to Meritor. More than 300,000 new air disc brakes were sold in 2016.
About Meritor
Meritor, Inc. is a leading global supplier of drivetrain, mobility, braking and aftermarket solutions for commercial vehicle and industrial markets. With more than a 100-year legacy of providing innovative products that offer superior performance, efficiency and reliability, the company serves commercial truck, trailer, off-highway, defense, specialty and aftermarket customers around the world. Meritor is based in Troy, Mich., United States, and is made up of approximately 8,000 diverse employees who apply their knowledge and skills in manufacturing facilities, engineering centers, joint ventures, distribution centers and global offices in 18 countries. Meritor common stock is traded on the New York Stock Exchange under the ticker symbol MTOR. For important information, visit the company's website at www.meritor.com.
SOURCE Meritor, Inc.
CONTACT: Media Inquiries,
Krista Sohm,
(248) 435-7115,
Investor Inquiries,
Carl Anderson,
(248) 435-1588,
Web Site: http://www.meritor.com
Related