Membranes suit ultrafiltration and nanofiltration.
Press Release Summary: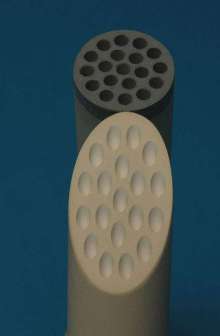 Kerasep Diamond(TM) filtering membranes resist abrasion and are suitable for clarification process of glucose syrups and extraction of fermentation broths. Multi-channel geometries make them compact and resistant to chemical constraints and aging. Manufactured with FDA-approved materials, membranes are available in cut-off sizes between nanofiltration and microfiltration.
---
Original Press Release:

Rhodia Orelis Introduces Kerasep Diamond(TM), Its New Line of Membranes for Filtration and Separation Processes


Chicago, May 18, 2004 : A worldwide leader specialized for over 25 years in separation and purification processes, the French company Rhodia Orelis is launching its new line of membranes, Kerasep Diamond(TM). Offering a very high resistance to abrasion, these innovative membranes have been developed by Orelis to address specific abrasion problems, especially in the clarification process of glucose syrups and the extraction of fermentation broths. Currently the most resistant membrane available on the market, Kerasep Diamond(TM) provides a high level of performance in terms of filtration flow rate and separation quality. The membranes are therefore particularly suitable for implementing difficult microfiltration, ultrafiltration and nanofiltration processes.

The new Kerasep Diamond(TM) membranes retain many of the same features as the Kerasep(TM) line. For example, the various multichannel geometries available (7, 19 or 27 channels) make them highly compact and resistant to chemical constraints and aging. The new membranes' high resistance to abrasion, however, considerably reduces wear and extends life expectancy, enabling a quicker return on investment than for the line's other products. Kerasep Diamond(TM) membranes are manufactured with FDA-approved materials, and are available in a broad range of cut-off sizes between nanofiltration and microfiltration, for the filtration as well as for the separation (extraction and concentration) of chemicals, effluents and active substances. All Kerasep(TM) membranes also offer back flushing capability.

The membranes are used for a wide range of applications including bio-industries, pharmaceutical (for the extraction and concentration of fermentation liquids to produce medicines, antibiotics, vaccines, additives and ferments), the automotive and metalworking industries, surface treatment (treatment of washing tanks, oily wastewaters) and the filtration of sweet beverages (clarification of soft drinks, fruit juice and glucose syrup).

Rhodia Orelis is currently seeking business contacts in both the US and Canada.

About Rhodia Orelis

Rhodia Orelis, one of the world leaders in membrane technology filtration, offers manufacturers, engineering firms and local authorities products, technologies, and services for reducing pollution at its source, treating wastewater and separating liquids (extraction, concentration and purification). Orelis is a Rhodia group subsidiary.

Orelis' main markets include: automotive and mechanical industries for applications such as e-coat ultrafiltration, recycling of degreasing baths, treatment of oily effluents; biotechnologies for the clarification of fermentation broths and the concentration purification of complex solutions in pharmaceuticals (antibiotics, vaccines, active substances, enzymes and food additives); the environment for the treatment of industrial effluents and domestic wastewater using membrane bioreactor technology in particular; the agrifood industry for the clarification of glucose syrups, fruit juices, standardization of milk, etc.

Rhodia is a global specialty chemicals company recognized for its wide range of innovative applications in chemistry, specialty materials and services, and fine chemicals. Partnering with major players in the automotive, electronics, fibers, pharmaceuticals, agrochemicals, consumer care, tires, and paints and coatings markets, the company offers custom-made solutions combining original molecules and technologies to respond to customers' needs. Rhodia subscribes to the principles of Sustainable Development communicating its commitments and performance openly with stakeholders. It generated net sales of 5.4 billion in 2003, employs 23,000 people worldwide, and is listed on the Paris and New York stock exchanges.

For more information, please contact:

Marine Bence, Marketing Manager
Rhodia ORELIS
5, chemin du Pilon - Saint Maurice de Beynost
01708 Miribel, FRANCE
Tel.: (011.33) 4 72 01 27 27
Fax: (011.33) 4 78 55 38 33
E-mail: orelis@eu.rhodia.com
Web: www.orelis.com

or

FRENCH TECHNOLOGY PRESS OFFICE
205 North Michigan Avenue, Suite 3740
Chicago, IL 60601
Tel: (312) 327-5260
Fax: (312) 327-5261
E-mail: contact.ftpo@ubifrance.com

More from Sensors, Monitors & Transducers