DC to DC Power Supplies (Converters)
MELCHER™ HP Series DC-DC Converter meets EN 50155, EN 45545 standards.
Press Release Summary: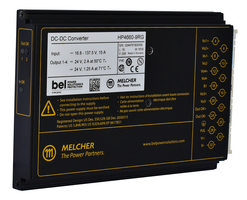 Delivering 192 watts power output with efficiency up to 93% over input in -40° to 70°C temperature range, MELCHER™ HP Series DC-DC Converter is suitable for railway applications. Featuring 19 in. chasis mounting, 10 ms interruption time and reverse polarity protection, converter is operated with 16.8 V to 137.5 V input voltage. Meeting EN 50121, fire standards, product is safely-approved to IEC/EN 60950-1 and UL/CSA 60950-1 2nd Edition.
---
Original Press Release:
Bel Power Solutions Launches Compact, Ruggedized Melcher™ HP Series
HP Series Features 10:1 Wide Input Range and Enhanced Durability Designed for Harsh Environments
Bel Power Solutions, a Bel group company, (NASDAQ: BELFA and BELFB) and premier global manufacturer of power management devices, announces the release of its MELCHER™ HP Series DC-DC converter (4TE) with an input voltage range greater than 10:1. The converters deliver up to 192 watts with typical efficiency up to 93% over input and load range with no derating over the operating ambient temperature range of -40° to 70°C.
Just one power supply covers all nominal battery voltages from 24 V to 110 V, making it particular suitable for railway applications. The continuous input voltage range is 16.8 V – 137.5 V with dynamic transient deviations to 12.5 V and 154 V for 2 seconds respectively. The HP Series complies with EN 50155, EN 50121, fire and smoke standard EN 45545 and all common national and international railway and safety standards, is packaged in a rugged cassette case for 19" rack or chassis mounting, and all the PCB boards are protected by lacquer, which is perfect for harsh, convection cooled environments in the traditional MELCHER™ style. They are also safety-approved to IEC/EN 60950-1 and UL/CSA 60950-1 2nd Edition.
The HP Series output covers 5 V to 96 V in single, dual, triple or quad output configurations. Standard features include current share, 10 ms interruption time, reverse polarity protection, inrush current limitation, over-voltage and user-programmable under-voltage lockout, remote on/off, adjustable output voltage, fully self-protecting and fully featured. A variety of electrical and mechanical accessories are also available, including a universal mounting bracket for DIN Rail and chassis mounting, a mounting plate for wall mounting and a front panel kit for accommodating 2 HP units for a 19" DIN rack with 6U, 5TE.
Your Bel Power sales representative can be found here http://belpowersolutions.com/corporate/contact/power. You can also send an eMail to Tech.Support@psbel.com for any technical inquiries. Our HP Series datasheets can be found here at belpowersolutions.com.
About Bel
Bel (www.belfuse.com) designs, manufactures and markets a broad array of products that power, protect and connect electronic circuits. These products are primarily used in the networking, telecommunications, computing, military and aerospace, transportation and broadcasting industries. Bel's product groups include Magnetic Solutions (integrated connector modules, power transformers, power inductors and discrete components), Power Solutions and Protection (front-end, board-mount and industrial power products, module products and circuit protection) and Connectivity Solutions (expanded beam fiber optic, copper-based, RF and RJ connectors and cable assemblies). The Company operates facilities around the world.
Corporate Contact:
Dara Crowe,
Bel Power Solutions
Media Contact:
Susan Rawlish,
Bel Power Solutions
More from Machinery & Machining Tools