Meissner Will Present on Perfusion Cell Culture at BPI US/Biotech Week Boston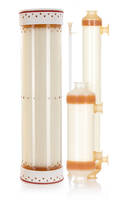 Meissner is excited to participate in Bioprocess International's BPI US, part of Biotech Week Boston, September 28 – 30, 2022, at the Boston Convention Center. Meissner will be presenting on Perfusion Cell Culture Applications on Thursday, September 29th, at 11:05 AM in the Spotlight Theater (located in Exhibit Hall A).
Jessica McRoskey, Meissner's Process Development Engineer, will discuss the advantages SepraPor® hollow fiber membrane filters offer for improved perfusion cell cultures. The full abstract can be referenced on Informa's site. This talk will be recorded live and available "on-demand" during the virtual week of this hybrid event. The in-person portion of this event will run September 28-30, 2022 in Boston and the content will be available online for a full year following the event. Meissner will be exhibiting in booth #638, in Exhibit Hall A, and will have representatives available to meet with attendees and answer any questions. They will highlight the breadth and depth of their filtration portfolio, their CryoVault® Freeze/Thaw Platform for bulk drug substance and their fill and finish capabilities.
BPI US, a part of Biotech Week Boston, will connect nearly 2,000 decision makers across the entire biopharmaceutical industry. Speakers at this event represent some of today's leading scientists, working across every stage of biopharmaceutical development and production. To see if you qualify for a free exhibit hall pass, please use the following link: https://get.informaconnect.com/bioprocessinternational/exhibit-hall-pass/?_ga=2.110389250.66219527.1662677206-1970049971.1657054607
For more information, call +1.805.388.9911, or visit www.meissner.com. For more information on BPI US visit: https://informaconnect.com/bioprocessinternational/.
For Immediate Release, Contact:
Meissner Filtration Products (USA)
1001 Flynn Road
Camarillo, CA 93012
Karisa Koenig
Director of Marketing
karisa.koenig@meissner.com
Leads to: karisa.koenig@meissner.com
Meissner Filtration Products (Ireland)
Castlebar Business & Technology Park
Drumconlan, Castlebar
Co. Mayo, F23 P961
More from Electronic Components & Devices