Meissner Will Be a Sponsor at ISPE's 30th Annual Product Show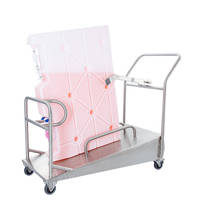 Meissner will be exhibiting at the ISPE Boston Chapter's Annual Product Show on September 21, 2022, at Gillette Stadium, in Foxborough, MA. All guests will receive a reusable Meissner sponsored tote, which can be used at the event and upcycled for future needs. Meissner will be hosting ISPE guests at booth E23 in the East Hall.
Attendees are encouraged to stop by the Meissner booth to learn more about Meissner's One-Touch® single-use systems and filtration portfolio. This year Meissner will highlight innovative technological advancements including the CryoVault®, a single-use end-to-end freeze-thaw platform for Bulk Drug Substance, advancements in Final Fill & Finish Technology, and their portfolio of filters. Meissner staff is excited to welcome attendees in-person for the first time since the pandemic started.
ISPE Boston Area Chapter's flagship event brings together over 3,000 attendees making it one of the strongest networking opportunities in the region. In its 30th annual year, this show is recognized as the premier single-day biopharmaceutical event in the Northeast. The Boston Chapter prides itself in ensuring that the day is valuable and worthwhile for all participants.
Meissner manufactures advanced microfiltration products and single-use systems for critical pharmaceutical and biopharmaceutical applications, such as sterilization of injectable drugs, and processing of life-enhancing/life-saving therapies. The company is a critical supplier to manufacturers of COVID-19 vaccines, therapies, treatments, and associated test kits. Meissner's manufacturing campuses include a headquarters location in Camarillo, California, USA, and a European manufacturing location in Castlebar, Ireland. Their product portfolios are built upon a solid foundation of quality, operational excellence and technical expertise, which allows delivery of high performance products and technical support services for their clients' critical applications.
For more information, call +1.805.388.9911, or visit www.meissner.com. For more information on The ISPE Boston Area Chapter's 30th Annual Product Show visit www.ispeboston.org/events/ product-show/.
For Immediate Release Contact:
Karisa Koenig
Director of Marketing
karisa.koenig@meissner.com
Meissner Filtration Products (USA)
1001 Flynn Road
Camarillo, CA 93012
Meissner Filtration Products (Ireland)
Castlebar Business & Technology Park
Drumconlan
Castlebar, Co. Mayo F23 P961