Meet Top Quality & Low Cost Thermoplastic Insulating Enclosures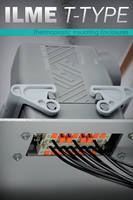 When it comes to heavy duty rectangular connectors, Mencom Corp. is the North American master distributor of ILME, an international market leader offering exceptional quality with competitive pricing. Continuing with the same tradition of quality and value, Mencom Corp. is pleased to introduce ILME T-type of Thermoplastic hoods and bases. Made of self-extinguishing thermoplastic material, they are structurally solid and mechanically robust, yet less expensive than the standard aluminum housings.  They are currently available in the standard 06, 10, 16, and 24 size housings.



T-Type housings offer the following advantages:

- Strong materials and impact resistant

- Excellent cost advantages

- Resistance to chemical agents, found in industrial environments

- Non-electrostatic thermoplastic material

- Metal Threaded Inserts and Light weight

- Pre-fastened gaskets for easier installation

- Similar External dimensions to the corresponding metallic enclosures

- Ample space inside enclosures for easy wiring similar to the corresponding metal high construction versions

- Possibility of making completely insulated constructions

- The high construction surface mounting housings are supplied with 1 open threaded entry and 1 closed threaded entry, which can be opened by the user, if required

- Absence of powder paint for environment

- Does not require special reinforced insulation

- Precision laser markings

- IP65 and UL Type 12 (= NEMA 12) degree of Protection rating



Please visit www.mencom.com/shop/ilme-connectors.html?ilme_series=92 for more details.

More from Services