AC Motor Controllers and Drives
Medium Voltage AC Drive fits in small spaces.
Press Release Summary: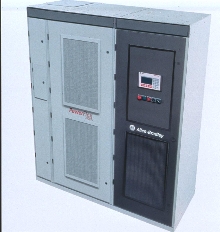 Allen-Bradley PowerFlex 7000 A Frame, in rating of 200 to 1,200 hp, fits in packages as small as 78.74 in. Base drive comes with integral isolation transformer or integral line reactor and input starter. Drive meets IEEE 519 harmonic guidelines, maintains near unity power factor, and produces sinusoidal voltage and current waveforms to motor. Inverter-duty motors are not required. Applications include fans, pumps, compressors, extruders, and conveyors.
---
Original Press Release:

Rockwell Automation Unveils Smaller PowerFlex(TM) 7000 Medium Voltage AC Drive


Allen-Bradley PowerFlex(TM) 7000 "A" Frame Drive gives users similar PowerFlex 7000 features in a smaller footprint

CAMBRIDGE, Ontario, July 11, 2002 - To help medium voltage drive users reduce installation space requirements while adding powerful performance and flexible control in applications ranging from 150 kW (200 hp) to 900 kW (1,200 hp), complete automation leader Rockwell Automation has introduced the Allen-Bradley PowerFlex(TM) 7000 "A" Frame Medium Voltage AC drive.

The PowerFlex 7000 "A" Frame offers users enhanced reliability and ease of use in a package as small as 2.0 meters (78.74 inches) at 4,160V, 750 kW (1,000 hp). The PowerFlex 7000 "A" Frame drive is available in three main configurations: a base drive; a base drive with Integral Isolation Transformer; and a base drive with Integral Line Reactor and Input Starter. Engineers optimized the compact package for low power ratings to reduce space required for drive installation. Its simplified design lowers commissioning, training and maintenance time, and significantly reduces the total cost of ownership from initial purchase price to annual maintenance costs.

The Allen-Bradley PowerFlex 7000 "A" Frame drive, part of the Allen-Bradley PowerFlex 7000 Family of Medium Voltage Drives, incorporates a power semiconductor device known as the Symmetrical Gate Commutated Thyristor (SGCT). These SGCT components lower conduction and switching losses, reduce total component count and increase reliability. The PowerFlex 7000 "A" Frame also features sensorless-vector control for better performance compared to volts-per-hertz drives, and has the ability to control motor torque similar to DC drives. The drive meets IEEE 519 Harmonic Guidelines (without a phase-shifting transformer), maintains near unity power factor and produces sinusoidal voltage and current waveforms to the motor. (Inverter-duty motors are not required with this drive.)

The air-cooled PowerFlex 7000 "A" Frame features a user-friendly operator interface common to all PowerFlex 7000 Medium Voltage drives. The "A" Frame drive extends the PowerFlex 7000 Medium Voltage product offering, which is now available in standard supply voltages from 2,400 to 6,600 volts to control induction and synchronous motors ranging from 150 kW (200 hp) to 6,700 kW (9,000 hp). This wide range makes the PowerFlex 7000 drives ideal for standard and specialty industrial and commercial applications, ranging from fans, pumps and compressors, to extruders and conveyors.

The Allen-Bradley PowerFlex Family of Drives represents the industry's latest in drives design and performance, from low to 6,700-kW (9,000-hp) applications. New capabilities in motor and logic control have shaped drives into more than simple motor control devices, which equates to greater productivity for users. PowerFlex drives are smarter than ever, with the ability to affect motor performance and communicate with the control process, enabling users to more simply manage information from shop floor to top floor.

Rockwell Automation (NYSE: ROK) is a world-leading provider of industrial automation power, control and information solutions that help customers meet their manufacturing productivity objectives. The company brings together leading brands in industrial automation for Complete Automation solutions, including Allen-Bradley® controls and engineered services and Rockwell Software® factory management software, Dodge® mechanical power transmission products, and Reliance Electric® motors and drives. The company also is a leading provider of contact management technologies and applications that help companies more efficiently manage interaction with their own customers. Headquartered in Milwaukee, Wis., USA, the company employs approximately 23,000 people at more than 450 locations serving customers in more than 80 countries.

PowerFlex, Complete Automation, Allen-Bradley, Rockwell Software, Dodge and Reliance Electric are trademarks of Rockwell Automation.

More from Controls & Controllers