Computer and Communication Terminals
Medical Panel PC is for clinician and patient use.
Press Release Summary: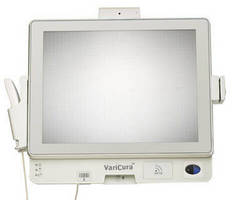 Equipped with Intel Pineview-D D410/D510 CPU, VariCura(TM) Medical Panel PC provides access to electronic medical records as well as multimedia entertainment and communication. Unit features 15 in. color TFT LCD, support for up to 2 GB of DDRII memory, and integrated I/O interface for accessory connection. Built-in webcam and Internet access help patients stay connected with family. Featuring zero-bezel design, PC has IP66-rated waterproof front panel and anti-bacterial coating.
---
Original Press Release:

Poindus Introduces the Multi-Touch Bedside Terminal to Optimize Hospital IT



Poindus' VariCura(TM) all-in-one Medical Panel PC with the zero-bezel design supports multi-touch and medial certification

Nowadays hospital IT professionals are having an enormous impact on patient well-being and satisfaction because they're equipping patient bedsides with modern devices for vitals monitoring, entertainment and communications. However, architecting a patient information and entertainment solution is complex, and IT departments must decide which technologies best meet patient expectations, clinical initiatives, staff processes and return on investment (ROI) targets.

Poindus Systems Corp., the innovator in POS and industrial computing, unveils the VariCura(TM), the unique multi-touch bedside terminal with medical certification. Poindus' VariCura(TM) medical terminal makes all patient electronic medical records easy to access nearby the patient bed and optimizes the aiding process. The patients stay time in hospital becomes easier by Poindus' VariCura(TM) which provides multimedia entertainment and communication choices such as eLearning, communication, access to clinical solutions and digital entertainment-all the content can be provided at the patient bedside.

Poindus' VariCura(TM), is a communication terminal which keeps families together. By the built-in webcam of VariCura(TM), it can along with internet access and help a elderly stay connected with family, even saw their grandchildren in live video by internet. The VariCura(TM) helps the medical staff to take care the elderly people via internet communication and make the elderly to adjust to a new lifestyle and maintains a sense of dignity for the patient. The VariCura(TM) is dedicated to meet the home healthcare needs.

Poindus' VariCura(TM) has a 15-inch (38.1cm) color TFT LCD with 1024 x 768 resolution and features a high performance and low power Intel Pineview-D D410/ D510 CPU, supports up to 2GBytes of DDRII memory, and integrated with rich I/O interface for accessory connection. Poindus' VariCura(TM) integrated with the latest multi-touch technology- projected capacitive technology (PCT) touch screen. The 15¨ touch screen used the capacitive technology which is popular at Smartphone, iPhone applications and it permits a intuitive and more accurate operation.

The VariCura(TM) front panel is rated by IP 66 waterproof and it is housed by the robust aluminum material to ensure a complete protection for inside system. The aluminum material also guarantees efficient heat elimination, steady performance to maximize uptime and help to reduce maintenance costs. Designed for use in the hospitals, the VariCura(TM) is featured alcohol or cresol cleaning and certificated by the EN60601-1-1, EN60601-1-2 medical grade. The whole unit of VariCura(TM) is housed by anti-bacteria coating suitable for hygiene requested application such as hospital or clinic.

The benefits of VariCura(TM)

For the hospital:

o Time saving as double documentation is eliminated thanks to real time documentation at the point-of-care.

o Revenue generation from charging patients for multimedia services.

o Cost savings thanks to flexible configuration design, it is able to connect multiple devices e.g. TV, barcode scanner, RFID, fingerprint devices.

o Better competitive position due to additional "hospitality" services.

For staff:

o Optimized workflow and time savings due to real time information at the point of care through integrated clinical applications

o High security due to single-sign on.

For patients:

o Higher patient satisfaction for the multimedia services and entertainment.

About Poindus

Poindus Systems Corp. stands the solutions-based distribution position for interactive KIOSK, point-of-sales terminal, retail automation, HMI, panel pc, touch screen, AUTO ID, industrial panel PC, peripherals e.g. barcode scanner, magnetic stripe reader, finger print to enhance the hospitality and retail business operation efficiency. Poindus is committed to working with value-added resellers and system integrators to deliver the complete solution for industrial, medical, POS, kiosks, retail, hospitality, transportation, industrial automation markets.

For more information on VariCura (TM) products and services, please check Poindus' website at www.poindus.com or direct electronic mail inquiries to sales@poindus.com


More from Electronic Components & Devices