Medical Panel Computer suits infotainment, Point of Care use.
Press Release Summary: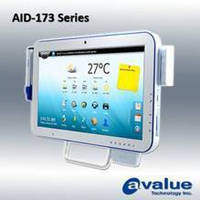 While AID-173SHR is powered by Intel® Core™ i7/i3/Celeron® CPU and QM67 chipset, AID-173S is powered by Intel Atom™ N270 CPU and 945GSE chipset. Both fanless computers offer such interfaces as Mini PCI, COM, and USB and feature 17.3 in., 16:9 display touch panel with full HD, 1920 x 1080 resolution. Front panel sealing is to IP65 standards, and antimicrobial finish is standard. Products support MSR, smartcard, and RFID. Barcode scanner integrated in multi-functional handset is available.
---
Original Press Release:

Avalue Introduces AID-173 Series to Market, a Medical Solution for Infotainment and POC (Point of Care) Applications



TAIPEI, TAIWAN – Avalue Technology Inc. (TAIEX: 3479-TW), a leading brand in industrial computer has been working in medical field and providing certified products ranged from board to integrated computing systems for long. To keep customers' needs on mind and foresee the future of medical service, Avalue devotes on developing a better solution to improve patients' experience of staying in hospital; therefore, an integrated medical panel system, AID-173 series, is lunched recently.



Exceptional Performance

AID-173 series is an integrated solution which contains outstanding hardware and medical software. The hardware platform is powered by Intel: AID-173SHR is equipped with Intel® Core™ i7/i3/ Celeron® series CPU and QM67 chipset for performance demanding applications. AID-173S is given with Intel™ Atom™ N270 CUP and 945GSE chipset for fair performance but low power consumption. This series is designed with flexibility of expansion which means multiple interfaces are kept, such as Mini PCI, COM and USB. For friendly user interface, AID-173 series adopts a 17.3" wide panel which is with full HD 1920 x 1080 resolution and LED backlight. Audio interface, various display ports and web-access are given to provide customers more possibility on doing entertainment.



Outstanding Mechanical Designs

AID- series is typically designed with industrial computing system standards: fanless operation for high reliability and noise-free; front IP-65 panel sealing (water and dust-proof) for system protection and easy maintenance. Besides of these industrial- grade ME designs, considering this machine will be used by patients, Avalue also gives it an elegant look: full-flat panel, slim design, low-profile, round-cornered frame and soft white-blue color which is expected to make this machine friendly and peaceful.



Legacy support and versatility 



To be a smart and talent medical solution, AID-173 series supports MSR, smartcard and RFID for security, identification, user authority, system control and management purpose. A barcode scanner is integrated in the multi-functional handset which is used for VOIP and a remote when doing TV or radio. (Devices are optional)



Best Infotainment Solution in the market

Conclude the features mentioned above, AID-173 is positioned as the best infotainment solution in the market. This solution allows patients to do things from doing multi-media entertainments, phone call communications, playing games and online-shopping, internet surfing…etc. With camera and handset, AID-173 series can also be used to alert medical staff, ask for medical advises or call for assistance.



This solution is not only designed for patients, but also for medical staff. Doctors and nurses are able to use this system to view electronic patient records, or search medical information, X-ray films or other documents. This is another purpose Avalue gives AID-173 smart card reader, RFID, MSR and barcode scanner: for data capture, user identification and security.



Listening your needs, foreseeing the future, assisting clients to be competitive; Avalue dedicates on customers' success. AID-173 series is a master-piece made by Avalue's team with a long developing and designing process. Avalue confidently introduces market this best solution of infotainment system and POC (point of care).



AID-173 Series Main Features:

• 17.3" 16:9 1080P Display and Touch Panel

• Intel® Core-i/ Celeron®/ Atom™ Processors

• Advanced VOIP Handset with Barcode Scanner

• Medical Supporting Peripherals (MSR/ SCR/ RFID/ Barcode Scanner)

• Anti-Microbial Finish

• Fan-less and Low Noise for Quiet Environment

• Meet Hospital Safety

• Energy Saving



Detailed SPEC:

AID-173SHR: http://www.avalue.com.tw/en/product/detail.aspx?ccid=2&cid=10&id=72&zid=783

AID-173S: http://www.avalue.com.tw/en/product/detail.aspx?ccid=2&cid=10&id=72&zid=864



For more information, please visit our website at www.avalue.com.tw, enter the keyword "AID-173" and click search button or contact us at sales@avalue.com.tw for more details.



About Avalue Technology

Avalue Technology (TAIEX: 3479-TW) is a professional industrial computer manufacturing company, which is dedicated to developing the x86 architecture products, including embedded computers, single board computers (SBC), Systems-on-Modules/ ETX (SoM/ ETX), industrial motherboards, all-purpose panel PCs, and barebone products, etc. Having expanded, Avalue offers its expertise on PCB/ Assembly/ BIOS version control and after-sales all type of services. An ISO 9001:2008 certified company; Avalue offers assurance to customers in every aspect of its business. With its headquarter located in Taiwan, Avalue has global subsidiary company, including offices in Shanghai, New Jersey, Tokyo, and Denmark. In addition, Avalue Technology operates an extensive distribution network to accommodate and serve customers all over the world.



Media Contact:

Email: pr@avalue.com.tw

More from Mechanical Power Transmission