Medical-Grade MLCCs are designed for reliability.
Press Release Summary: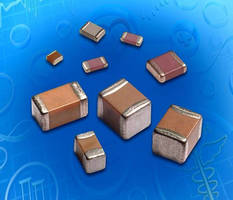 Delivering reliability performance required by electronic life support applications, MQ Series includes 8 EIA case sizes from 0402–2225, voltage ratings range from 4–100 V, capacitance values from 1 pF to 100 µF, and capacitance tolerances from ±0.1 pF to ±30%. Dielectric materials NP0 (C0G), X7R, and X7S are rated for -55 to +125°C, while X5R is rated from -55 to +85°C. Termination options include plated Ni/Sn, 60/40 Sn/Pb, 5% min Pb-plated solder, and gold plated.
---
Original Press Release:

AVX Releases MQ Series Medical Grade MLCCs



Manufactured, tested, & qualified against rigorous requirements, & available in a variety of dielectrics, case sizes, ratings, & terminations, the MQ Series MLCCs provide medical device engineers with the utmost reliability & design flexibility, enabling next-gen electronic life support applications



FOUNTAIN INN, S.C. – AVX Corporation, a leading manufacturer of passive components and interconnect solutions, has released the MQ Series medical grade MLCCs. Manufactured, tested, and qualified using stringent medical design, in-process, and lot acceptance requirements, MQ Series medical grade MLCCs deliver the superior reliability performance required by electronic life support applications, including: pacemakers, implantable cardioverter-defibrillators (ICDs), and neuromodulation devices. Available in several different dielectrics, case sizes, voltage and capacitance ratings, and termination options, the series also offers exceptional versatility.



"AVX has a long history of providing advanced design, manufacturing, testing, and qualification services for the medical industry, and we're proud to be an industry-leading developer and supplier of medically qualified MLCCs and other passive components," said Lizzie Geismar, product manager, AVX. "We design all of our medical components with our customers in mind, and, as such, our MQ Series MLCCs provide medical device engineers with both the utmost reliability and design flexibility, enabling the next generation of electronic life support applications."



MQ Series medical-grade MLCCs are available in eight EIA case sizes spanning 0402 to 2225, and four dielectric materials: NP0 (C0G), X7R, X7S, and X5R. Voltage ratings for the series range from 4V to 100V, capacitance values span 1pF to 100µF, and capacitance tolerances extend from ±0.1pF to ±30%. MQ Series capacitors are also available with four termination options: plated Ni/Sn, 60/40 Sn/Pb, 5% minimum Pb-plated solder, and gold plated.



NP0 (C0G), X7R, and X7S MQ Series MLCCs are rated for operating temperatures spanning -55°C to +125°C. Operating temperatures for X5R MQ Series MLCCs range from -55°C to +85°C. MQ Series capacitors in 0402, 1210, 1812, 1825, and 2225 cases are compatible with reflow soldering, and 0603, 0805, and 1206 cases are compatible with both reflow and wave. Components can be purchased directly from AVX, and are shipped on 7" or 13" reels or in waffle packaging. Lead-time for the series is 15 weeks.



MQ Series medical grade MLCCs are manufactured and reliability and performance tested at AVX's Myrtle Beach, South Carolina facility, which is TS 16949 certified. For more information about this certification, or to request a specific rating, please contact Lizzie Geismar by calling 864-967-2150.



For more information about AVX's MQ Series medical grade MLCCs, please visit http://www.avx.com/products/ceramic-capacitors/surface-mount/diverse-medical-grade-mq-series/ to access the product datasheet, catalog, and part number information. For all other inquiries, please visit www.avx.com, call 864-967-2150, or write to One AVX Boulevard, Fountain Inn, S.C. 29644.



About AVX

AVX Corporation is a leading international supplier of electronic passive components and interconnect solutions with 20 manufacturing and warehouse facilities in 11 countries around the world. AVX offers a broad range of devices including capacitors, resistors, filters, timing and circuit protection devices, and connectors. The company is publicly traded on the New York Stock Exchange (NYSE:AVX).



A member of the Kyocera Group since 1990, AVX is also the only company authorized to supply Kyocera Electronic Devices to the Americas and Europe. Established in 1959 and based in Kyoto, Japan, Kyocera Electronic Devices is a leading international supplier of connectors, capacitors, ceramic resonators, surface acoustic wave (SAW) filters and duplexers, and crystal oscillators and timing devices.



For more information, contact:

Lizzie Geismar

Product Manager, AVX

864-967-2150

lizzie.geismar@avx.com



Christine Stieglitz

PR Executive, BtB Marketing

919-872-8172

christine.stieglitz@btbmarketing.com

More from Electrical Equipment & Systems