Medical-Grade Microwave Power Generator replaces larger sources.
Press Release Summary: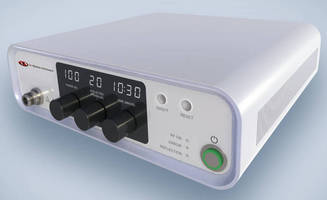 Measuring 11.8 x 2.2 x 10.8 in., model MSYS245 can provide more than 100 W CW output power at 2.45 GHz for surgical applications. It weighs less than 10 lb and uses solid-state components and heat-pipe-based cooling system. Operated via front-panel UI, unit integrates control and monitoring circuitry, reflected power measurement system, and PWM techniques. Transistor oscillator feeds 4-stage amplifier, which is based on GaN transistors mounted on SiC substrates for thermal stability.
---
Original Press Release:

Compact 100-W Medical-Grade Microwave Power Generator Replaces TWTs



Alloa, Scotland-Emblation Microwave, an Emblation Limited Company, has announced its new model MSYS245 medical-grade microwave power generator, capable of more than 100 W CW output power at 2.45 GHz. It is ideal for a wide range of surgical applications, including soft tissue ablation, microwave hyperthermia therapy, diathermy and microwave coagulation therapy. The small size and simple operation of the microwave power source make it suitable not only for procedures performed in hospital theatres and in research laboratories, but for out-patient services in smaller, local medical facilities. The compact microwave generator can replace much larger existing sources of microwave power at 2.45 GHz, such as magnetrons and traveling-wave tubes (TWTs), which also require separate power supplies.

In contrast to rack-mount magnetron and TWT microwave power sources, the model MSYS245 measures just 11.8 x 2.2 x 10.8 in. (300 x 85 x 275 mm) and weighs less than 10 lbs. The small size is made possible by the use of solid-state components and a novel cooling system: the MSYS245 features a transistor oscillator feeding a state-of-the-art four-stage amplifier. The amplifier is based on gallium-nitride (GaN) transistors mounted on (SiC) substrates for outstanding thermal stability. Biased for Class AB mode operation, the amplifier achieves better than 62% efficiency. For added reliability, the MSYS245 incorporates a novel, compact heat-pipe-based cooling system that transfers heat away from the amplifier's active devices and maintains the enclosure at low operating temperatures even when running at full power.

In addition to the oscillator and amplifier, the MSYS245 integrates control and monitoring circuitry, including a reflection trip functionality, which when used in combination with the specially designed reflected-power measurement system, results in significantly improved procedure safety. The MSYS245's internal reflected-power measurement system can significantly reduce errors and measurement uncertainty. Such accuracy is vital for safety critical applications, such as when measuring reflected power during a treatment to give an indication of treatment progress or correct placement of the applicator.

The MSYS245 employs pulse-width modulation (PWM) techniques to maintain power within 5% of a selected value, over the full operating-temperature range.

The easy-to-use MSYS245 is operated via an intuitive front-panel user interface. The front-panel controls allow a user to enable or disable RF output power and to monitor status. A timer provides a maximum 30-minute range across which a "stop" time can be set to disable power for treatments. Front-panel LEDs and alarms-compliant with 60601 safety standards-alert users when RF power is enabled and when excessive reflected power conditions are detected.
"The MSYS245 frees surgeons and other medical personnel to perform sensitive microwave power treatments, such as soft tissue ablation, hyperthermia and diathermy, outside of the traditional hospital theatre," notes Gary Beale, CEO of Emblation Microwave. "It is easily transportable and ultra reliable compared to other medical microwave systems on the market, with excellent temperature stability and a highly accurate reflected-power measurement system included. We are offering a very compact solution for medical microwave designers and manufacturers, in place of much larger microwave power sources."

In addition to the standard model MSYS245, the company provides special modified medical versions per a customer's requirements, including power modules, lower-power units and power generators designed for use with specific applicators. The MSYS245 is designed for full compatibility in medical and laboratory environments: all components are internally shielded to minimize electromagnetic interference (EMI) and suppress unwanted harmonic signals. The MSYS245 meets CE mark certification as well as UL 60601 and IEC 60601 product safety standards in the US, UK, and Canada.

About Emblation Microwave
Emblation Microwave is one of the companies of Emblation Limited, a Scottish-based innovator in the use of microwave power for medical and industrial applications. Emblation Limited also includes Emblation Medical, a pioneer in medical treatments based on applied microwave energy. Emblation Microwave, an Emblation Limited Company, Forrester Lodge, Inglewood, Alloa FK10 2HU, Scotland, UK; Tel: +1 (781) 577-2796 (US), +44 (1259) 236132 (UK), Fax: +44 (1259) 210430 (UK), e-mail: info@emblationmicrowave.com, Internet: www.emblationmicrowave.com.

More from Software