Media Valve features maintenance-free design.
Press Release Summary: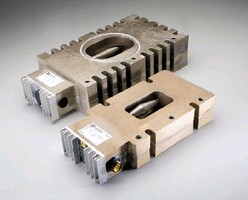 Utilizing permanent magnet and electro-magnet, MagnaValve(TM) regulates flow of steel shot in blast cleaning machines. When no power is applied, permanent magnet stops all flow. With power applied, magnetic field is neutralized and shot is allowed to flow through valve. MagnaValve may be used with amperage control or flow control using built-in sensor. Available in 24 Vdc and 110 Vac models, valve works with cast steel shot and grit, cut wire shot, and stainless steel cut wire shot.
---
Original Press Release:

Maintenance-Free Media Valve at Cast Expo



Mishawaka, Indiana - (January 18, 2008) - Electronics Inc. will be exhibiting the maintenance-free MagnaValve(TM) media valve at Cast Expo. The MagnaValve is ideal for operations that want to reduce maintenance expenses on their blast cleaning machines-there are no moving parts in the MagnaValve so there is nothing to break or wear out. The MagnaValve uses a strong permanent magnet and electro-magnet design to regulate the flow of steel shot in blast cleaning machines. When no power is applied to the MagnaValve, the permanent magnet stops all flow. With power applied, the magnetic field is neutralized and shot is allowed to flow through the valve. The MagnaValves for wheel blast machines may be used with amperage control (no built-in sensor) or flow control using a built-in sensor. The MagnaValves used on air type machines have a
built-in sensor to show the actual shot flow rate in lbs/minute or kg/minute. MagnaValves work with cast steel shot and grit, cut wire shot and stainless steel cut wire shot.

The MagnaValve eliminates guessing-it provides reliable, repetitive, and consistent blasting so that machine operators always have the proper media flow rate. Additional benefits of the

MagnaValve include:
o Cost savings from the efficient use of media and lower media disposal fees
o Many control options available to suit your application
o No risk of machine malfunction due to running out of shot during procedure
o Confidence that your product was blast cleaned properly
o Compliance to specifications is readily attainable
o Requires less operator time
o Available in 24 Vdc and 110 Vac models
o Works with most steel media sizes
o Environmentally-responsible-conserves energy and media (less media in landfills)
o Over 26 years of proven performance in the field
o Trusted by OEMs and end-users worldwide
o Easy to install on existing machines
o Used worldwide in automotive, aerospace and other manufacturing applications, including foundries

See the MagnaValve at Booth #1315.

Company Information
Contact: Tom Brickley
tom.brickley@electronics-inc.com
+1-574-256-5001

More from Electrical Equipment & Systems