Media Player IC extends battery life in portable devices.
Press Release Summary: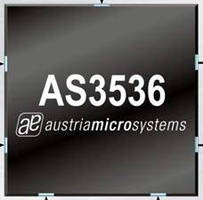 In addition to system-level power management, audio codec, and battery charging, AS3536 features core based on audio and video engines with post-processors acting as co-processors to ARM central programmable unit capable of 400 MHz. System level battery consumption is 120 mW for DVD-resolution movies and sub 15 mW for compressed audio. Fully static design and low leakage technology allow for 1.4 mW preserving context or 4 mW while refreshing display from on-chip 512 KB buffer.
---
Original Press Release:

austriamicrosystems Leaps Ahead in Portable Multimedia with New Chip Solution Enabling DVD Quality Video and High Definition Audio at Industry's Lowest Power Consumption



AS3536 includes unique audio/video processing engines and power management to achieve only 120mW system level battery consumption for DVD resolution movies and sub 15mW for compressed audio

Unterpremstaetten, Austria (Nov 6, 2008) - austriamicrosystems (SWX:AMS), a leading global designer and manufacturer of high performance analog ICs for communications, industrial, medical and automotive applications, announces an additional member of its new family of media player ICs with innovative IP aimed at bridging the gap between the audio/video experience of multimedia players and home entertainment devices.

austriamicrosystems' AS3536 is an innovative multimedia player system whose core is based on newly developed audio and video engines with post-processors acting as co-processors to an ARM central programmable unit capable of 400 MHz. The IC also includes system level power management, a high quality audio codec and battery charging. The claimed power consumption is at system level that is inclusive of power conversion losses, access to NAND Flash, DRAM memories and audio played to headphones with running application software. A lower cost derivative, AS3535, which is also available, plays audio/video at up to WQVGA resolution with a system power of 60mW, a level that most of today's audio players require for music files only.

For portable devices, it is essential to minimize power consumption while in stand-by mode. The fully static design and low leakage technology of AS3536 allow for only 1.4mW preserving context or 4mW while refreshing the display from the on-chip 512Kbytes buffer (with screen backlight off).

The audio engine, in a fully hardwired context, executes the decompression and playback of most popular compressed audio formats, like MP3, WMA and AAC, for the least amount of power consumption with 0 (zero) CPU load. The audio post-processor implements an Asynchronous Sample Rate Converter (ASRC) with near transparent quality, a multi-channel mixer with limiting function and 10 band graphics equalizer, and supports 192 KHz sample rates at 24 bits dynamic range for high definition audio processing. Three sets of I2S outputs can independently control stereo speakers, subwoofer and headphone or line outputs and may also be utilized as multichannel audio outputs. The AS3536 audio subsystem additionally includes a stereo PDM digital microphone input thereby completing all audio requirements for new generation multimedia players.

The fully hardware implemented video engine can decompress and play H.264/AVC, MPEG4, H.263, WMV9/VC-1 and Sorenson Spark multi-standard video with resolution in excess of DVD players (D1 video). JPEG pictures are decompressed at 16Mpixels/sec. WMV9 is supported to Main Profile at High Level so that storing DVD movies requires less than 1/6th of their original file sizes at equivalent quality. The video post-processor includes features like up/down video scaling, rotation, cropping, split screens, picture in picture and alpha blending for enhanced GUI effects. The unique capability to play Sorenson Spark video as supported by Adobe Flash allows to play content at very low power from popular Web sites, i.e. YouTube and Google Video.

The AS3536 directly interfaces to the latest generation removable and embedded flash memory types with 4/8/16-bit hardware ECC, such as MLC NAND Flash, iNAND, LBA NAND, moviNAND, oneNAND and removable card formats like SD2.0, MMC+, CE-ATA, MS PRO and CF. The AS3536 is complemented by a comprehensive mature software suite backed by three generations of products delivered in the multimedia player market. The SDK has passed the stringent test criteria of the Certified for Windows Vista program for downloadable content.

Roberto Simmarano, Senior Marketing Director Business Unit Communications at austriamicrosystems, commented, "With austriamicrosystems' AS3536, portable multimedia players and mobile TV receivers can now reproduce standard definition video content without compromising battery consumption. Listening to music, the prevalent use of portable entertainment devices, the AS3536 offers the same uncompromised experience as with high quality home A/V devices due to its immersive lossless high definition audio capabilities, yet with an exceptional threefold increase in playtime compared to current generation portable multimedia devices."

The AS3536 is available now in a CTBGA 244 balls package, 10x10mm with 0.5mm ball pitch. The lower cost derivative AS3535 supports video of up to WQVGA resolution and a CPU clock rate of 266MHz. For both devices evaluation boards and reference kits are available. Further product specific information, electronic picture and block diagram are available online at www.austriamicrosystems.com/Mobile-Entertainment-Players/AS3536 austriamicrosystems will showcase the AS3536 at the Electronica Hall A5 Booth 107

About austriamicrosystems
austriamicrosystems is a leading designer and manufacturer of high performance analog ICs, combining more than 25 years of analog design capabilities and system know-how with its own state-of-the-art manufacturing and test facilities. austriamicrosystems leverages its expertise in low power and high accuracy to provide industry-leading customized and standard analog products. Operating worldwide with more than 1,000 employees, austriamicrosystems focuses on the areas of power management, sensors & sensor interfaces portable audio and car acces, in its markets Communications, Industry & Medical and Automotive, complemented by its Full Service Foundry activities. austriamicrosystems is listed on the SWX Swiss Exchange in Zurich (ticker symbol: AMS). For more information, please visit the web site at www.austriamicrosystems.com.

Electronic picture and block diagram are available on request or at: www.austriamicrosystems.com/eng/Press/Press-Releases

For further information
Technical Contact
austriamicrosystems AG
Werner Schoegler
Product Manager
Tel: +43 (0) 3136 500 5365
Fax: +43 (0) 3136 500 5420
werner.schoegler@austriamicrosystems.com
www.austriamicrosystems.com