Medeco CLIQ Go Wins New Product of the Year Award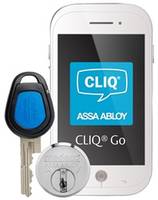 Medeco CLIQ Go--the intelligent key system for small businesses--won Security Today magazine's New Product of the Year Award in the category Locks/Safes/Hardware.
SALEM, VA. (PRWEB) AUGUST 21, 2018 - Medeco Security Locks, a division of ASSA ABLOY N.A., located in Salem, Va., was a winner of Security Today magazine's New Product of the Year Award. Medeco CLIQ Go received top honors in the category, "Locks/Safes/Hardware."
Medeco CLIQ Go is a cost-effective intelligent key system for small to medium-sized businesses that allows them to manage their security on the go using the CLIQ Go mobile app. "Medeco CLIQ Go was designed for business owners who need access control on only a handful of doors," said Ashok Acharya, Medeco CLIQ product line manager. "Winning this award is testament to Medeco's commitment to provide innovative—and economical—security solutions for businesses of all sizes."
Medeco CLIQ Go also benefits local security professionals by creating a recurring revenue source, as well as the opportunity to offer intelligent key systems "off the shelf" to their business clients. Medeco - CLIQ Go puts locksmiths in control of their intelligent key business, from the sale to programming keys to expanding current systems as client needs change.
The Security Today New Product of the Year Award honors the outstanding product development achievements of security equipment manufacturers whose products are considered to be particularly noteworthy in their ability to improve security. More than 100 entries were received in the 10th successful year of the independently juried contest. Winners were honored in 47 product award categories.
"This is the 10th year that we have sponsored the New Product of the Year contest, and each year I am amazed at not only the quality of the products but the intuitive nature behind the development of the products," said Ralph C. Jensen, editor-in-chief and content director of Security Today. "There is real genius behind the products that have been entered, and I'm pleased that we can help bring this new technology to the forefront of the security industry. I am so grateful for the time people put into creating their entries and sharing this information with us, that we can then share with our readership."
Winners in each category will be recognized and presented awards at GSX September 25-27 in Las Vegas.
About Medeco: 
Founded in 1968 and based in Salem, Va., Medeco is a market leader in mechanical and electronic locks and locking systems for security, safety, and control. The company's customer base includes wholesale and retail security providers, original equipment manufacturers, and institutional, commercial, industrial, and residential end-users. Visit http://www.medeco.com for additional information.
About ASSA ABLOY: 
ASSA ABLOY is the global leader in door opening solutions, dedicated to satisfying end-user demands for security, safety and convenience. For more information, visit http://www.assaabloy.com.
Contact Information
John Phillips
Medeco
http://www.medeco.com
540-380-1757
More from Construction Equipment and Supplies