Measuring Systems measure workpiece roundness/cylindricity.
Press Release Summary: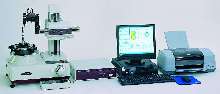 Roundtest® RA-1400/1500 instruments are equipped with GUI which includes solid 3D modeling, graphical machine controls, and graphical measurement-analysis tools. Machines are equipped with turntables suspended by air bearings for accurate rotation and elimination of performance deterioration due to wear, with spindle error as low as 0.02 µm. Products achieve straightness of column accuracies to 0.15 µm and parallelism of column accuracies to 0.3 µm.
---
Original Press Release:

Mitutoyo Roundtest® RA-1000 Series Offers Extreme Accuracy and Powerful Graphics in the Class of Small Roundness/Cylindricity Measuring Systems


(Aurora, IL) Mitutoyo Roundtest® RA-Series instruments offer enhanced performance for measurement of roundness/cylindricity of small-size workpieces (to 10kg max.).

Roundtest RA-1400/1500 instruments feature a powerful graphical user interface which includes solid 3-D modeling as part of the intuitive part-program editing routine as well as graphical machine controls, and a selection of easy-to-interpret graphical measurement-analysis tools.

Rountest RA instruments are equipped with turntables suspended by high-precision air bearings for extremely accurate rotation and elimination of performance deterioration due to wear with spindle error as low as 0.02µm. "Straightness of column" accuracies to 0.15µm/50mm and "parallelism of column" accuracies of 0.3µm/150mm are achieved (model RA-1500).

The Center and Level wizard makes workpiece centering and leveling simple and fast while measurement functions, including arc measurement, are automatic.

Roundtest systems are available in two configurations: The RA-1400 CNC 2D Measuring System is designed for the automation. The RA-1500 CNC 3D Measuring System is designed for the measurement of Cylindricity and Straightness on small workpieces.

Complete with controller and software pre-loaded into an included PC with flat panel display and color printer.

A compact design that's competitively priced, Roundtest RA occupies only a small footprint on the test bench while delivering big value in the class of small roundness/cylindricity measuring systems.

Mitutoyo America Corporation's nationwide network of Metrology Centers and support operations provide application, calibration, service, repair and educational programs for industry. This ensures that our 6,000+ metrology products will deliver measurement solutions for our customers throughout their lifetime. Contact Mitutoyo America Corporation, 965 Corporate Boulevard, Aurora, IL 60504. Phone: (630) 978-5385 Fax: (630) 820-7403 E-mail: info@mitutoyo.com Or visit our website at www.mitutoyo.com

More from Electronic Components & Devices