Measuring System analyzes contour and surface roughness.
Press Release Summary: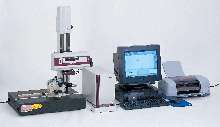 Formtracer® CS-Series generates contour and surface roughness analysis from single measurement of workpiece. Model CS-3000, for smaller workpieces, offers max measuring range of 10 mm and max resolution of 0.8 nm. Model CS-5000 provides laboratory level accuracy, employing Laser Holoscale(TM), which utilizes interference of diffracted light to achieve nanometer resolution. Formtracepak software provides analysis for dimensional/contour measurements such as radius, distance, and angle.
---
Original Press Release:

Formtracer® Measuring Systems Generate Both Contour and Surface Roughness Analyses from a Single Workpiece Trace


(Aurora, IL) For those instances where contour as well as surface roughness measurements are required, Formtracer® CS-Series measuring systems from Mitutoyo America Corporation offer a new level of functional integration.

Formtracer CS-Series systems determine contour and surface roughness analysis from a single measurement of the workpiece, no need to setup twice, cutting measurement time in half. Then, utilizing resident Formtracepak® software, both contour and roughness are analyzed and printed out in one report.

These systems are available in two configurations and levels of throughput and accuracy: the Formtracer CS-3000 and CS-5000 models. The general purpose CS-3000 is designed for smaller workpieces requiring mid-level accuracy. With a maximum measuring range of 10mm and a maximum resolution of 0.8 nanometers.

The CS-5000 provides laboratory-level accuracy employing a Laser Holoscale(TM) (patent pending) which utilizes interference of diffracted light to achieve nanometer resolution. Accuracy reported @ 20°C is X-axis: (0.3+0.002L)µm L = traverse length; Z-axis: ± 0.3+ (0.02H)µm H = measuring height.

Formtracepak software provides multiple analysis functions for dimensional/contour measurements such as radius, distance and angle and provides "contour tolerance" functions as standard features.

Formtracepak's surface roughness analysis conforms to standards including ANSI / JIS / DIN / ISO / CNOMO / MOTIF while supporting as many as 80 different parameters related to Ra, Ry, Rz, S, Sm, mr, Pc, Rq, Rv, Rk, and motif-related parameters.

Set-up once. Then get twice the results from a single piece of
equipment. This is Formtracer's formula for consistency and throughput improvement as well as reduced total equipment owning and operating costs.

Mitutoyo America Corporation's nationwide network of Metrology Centers and support operations provide application, calibration, service, repair and educational programs for industry. This ensures that our 6,000+ metrology products will deliver measurement solutions for our customers throughout their lifetime. Contact Mitutoyo America Corporation, 965 Corporate Boulevard, Aurora, IL 60504. Phone: (630) 978-5385 Fax: (630) 820-7403 E-mail: info@mitutoyo.com Or visit our website at www.mitutoyo.com

More from Transportation Industry Products