Measuring Station combines roughness, waviness, and contour.
Press Release Summary: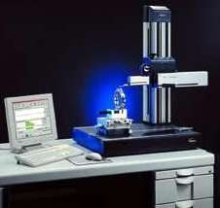 MarSurf(TM) XCR 20 takes roughness and contour measurements from same unit. MarSurf GD 25 roughness drive unit and PCV 200 contour drive unit are attached via twin mount to same measuring stand. There is no need to change drive unit or probe when changing measurement task from roughness to contour. Simulation modes promote user familiarity, and Teach-In commands allow for creation of measuring programs that can be saved and launched using programmable function keys.
---
Original Press Release:

New MarSurf(tm) XCR 20 from Mahr Federal Combines Roughness, Waviness and Contour


-- Combined Measuring Station saves time, space and resources

-- Enables semi-automated sequences, high-precision contour and roughness evaluation.

PROVIDENCE, RI -- The new MarSurf(tm) XCR 20 from Mahr Federal combines two high precision measuring systems into one, enabling both roughness and contour measurements to be taken on the same unit and with the same setup. The combined measuring station incorporates drive units from the MarSurf XR 20 roughness and XC 20 contour systems.

The MarSurf GD 25 roughness drive unit (XR 20) and PCV 200 contour drive unit (XC 20) are attached via a twin mount to the same measuring stand. There is no need to change the drive unit or probe when changing the measurement task from Roughness to Contour. This translates to saving time, work space, and financial resources.

The MarSurf XCR 20 also allows certain operating sequences such as measuring stand positioning and drive unit positioning to be easily semi-automated. Simulation modes allow users to quickly familiarize themselves with both systems, and "Teach-In" commands allow the creation of "Quick and Easy" measuring programs that can be saved and launched using programmable function keys.

The MarSurf XCR 20 incorporates all the high precision measurement features of the XR 20 and XC 20 roughness and contour systems, and is based on Mahr's modular Perthometer Concept for measuring surface roughness contours both in the laboratory and on the shop floor. Because of this modularity, either the XR 20 roughness or XC 20 contour system can be upgraded to an XCR 20 roughness and contour measuring station at any time. A complete range of surface measuring accessories is also available.

Mahr Federal, a member of the Mahr Group, is known worldwide for its expertise in providing dimensional measurement solutions. The ISO 9001:2000-certified company manufactures and markets a wide variety of dimensional metrology products, and is headquartered in Providence, RI.

For additional information, contact:

Marketing
Mahr Federal Inc.
1144 Eddy Street
Providence RI 02905 USA
Tel: (800) 333-4243 or (401) 784-3100
Fax: (401) 784-3246
Email: [email protected]
Web site: www.mahr.com