Measuring Products include tapes and wheels.
Press Release Summary: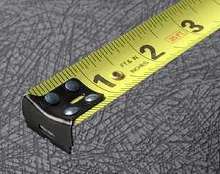 Equipped with 1 in. blade, Pro Series 25 ft metal and fiberglass measuring tapes have Dura-Life(TM) 5-rivet end hook, stainless steel reinforcement strip, and Ny-Clad® nylon powder coating on both sides of entire blade. Long Tapes are available in fiberglass and Ny-Clad steel with 3:1 gear ratio. Pro Series Measuring Wheels feature ergonomic handles with dual triggers that operate braking and counter reset functions.
---
Original Press Release:

Lufkin® Introduces Pro Series Measuring Products Line


25' Tape Is Smaller - Longer Lasting - Less Expensive

RALEIGH, NC - JUNE 2003 -Lufkin®, a Cooper Hand Tools brand, is introducing its new Pro Series line of high quality, competitively priced measuring products including metal and fiberglass measuring tapes, metal and fiberglass long tapes and measuring wheels.

The flagship product of the Pro Series line, designed to reduce replacement costs, is the popular 25-foot measuring tape featuring an end hook that tests show lasts ten times longer than competitor models and a 1-inch wide blade that tests show lasts five times longer than other heavy-duty blades.

The selection of Pro Series measuring tapes also includes 12-foot, 16-foot, 30-foot, and 35-foot blade length power tapes and comparable metric models.

The Dura-Life(TM) 5-rivet end hook on Pro Series 1-inch wide blades moves the rivets away from the center of the blade. Instead, it puts two rivets on each side where the blade is strongest. There is also a stainless steel reinforcement strip that more than doubles the total material thickness of the blade where the end is attached. A large fifth rivet at the end of the strip provides additional strength. Durability and extra blade life is also achieved through a patented process allowing a Ny-Clad® nylon powder coating to be applied to both sides of the entire blade.

The Pro Series 25-foot tape case is also 17 percent smaller than the competition for better fit in the hand and for added user comfort.

Pro Series Long Tapes will be available in both fiberglass and new Ny-Clad steel with a 3:1 gear ratio for fast rewinding. Pro Series Measuring Wheels will be available in large and small wheel sizes and will have several new patent-pending features, including ergonomically designed handles with dual triggers to operate braking and counter reset functions.

Pro Series measuring tapes and other products in the new line will be available at independent and chain hardware stores, at specialty retail outlets including Internet retailers, and through industrial distribution. Distributors and retailers may call 919 781-7200 for additional information.

For general information about these or other Cooper Hand Tools products visit the web site at www.cooperhandtools.com.

Test Data

Blade Life - Standard ASTM Test Method D968 for abrasion resistance quantifies the durability of coatings by measuring the amount of abrasive (in this case, sand measured in liters) that can fall on a coating "until the substrate becomes visible."

End Hook Life - Measured using identical procedures on test apparatus developed by Cooper Hand Tools. Test consists of dropping a 0.2 lb. weight repeatedly down the length of a vertically suspended and stabilized tape blade from a height of 25 inches until the end hook breaks off. See Cooper Hand Tools Brochure No. 550184 for additional details.

More from Software