Measurement Instrument supports surface roughness option.
Press Release Summary: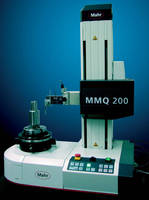 MarForm MMQ 200 Formtester is available with option package that provides measurement of surface finish parameters according to accepted ISO, ASME, and JIS standards. With combined hardware/software MMQ 200 Surface Finish option, operators will experience reduced set-up and measurement cycle time; only one piece of equipment is needed for form and surface measurements. Also, roughness option package utilizes skidded diamond-tipped PHT stylus and MarWin-based surface finish software.
---
Original Press Release:

Mahr Federal to Feature MarForm MMQ 200 Surface Roughness Measurement Option at MD&M EAST 2011



PROVIDENCE, RI -- Mahr Federal will be featuring the new option package for their well-known MarForm MMQ 200 Formtester at MD&M EAST, June 7-9, 2011, at the Jacob K. Javits Convention Center, New York, NY. Mahr Federal will occupy booth #1781.

The new option package for the MarForm MMQ 200 Formtester provides the measurement of surface finish parameters according to accepted ISO, ASME, and JIS standards. With the combined hardware/software MMQ 200 Surface Finish option, operators will benefit from reduced set-up and measurement cycle time, and reduced cost by needing only a single piece of equipment for both form and surface measurements.

According to Pat Nugent, Vice President for Metrology Products at Mahr Federal, the Surface Finish Option will make the MMQ 200 an excellent choice for a number of medical applications. "We have customers that make orthopedic implants using this system to measure the roundness and other parameters on the spherical balls of hip joints. And we have another customer that makes medical imaging equipment that is using one of these systems to measure the bearings, shafts, and other components for roundness, cylindricity, runout, flatness, perpendicularity, etc."

MMQ 200 was designed with roughness measurements in mind, and can sample data with spacing down to 0.5 microns, well within accepted international standards for roughness measurement. The roughness option package utilizes the same skidded diamond-tipped PHT stylus as is used on Mahr Federal's PS1 and M300 surface finish machines, and the same MarWin-based surface finish software as the MarSurf® XR 20. The stylus is mounted opposite the ruby-tipped form probe on the MMQ 200's motorized T7W probe head. The MMQ 200 automatically swivels the probe to apply the diamond stylus, and changes from horizontal to vertical measurement as needed, utilizing standard surface finish parameter cut-off lengths. A skidless probe measuring option is also available.

Also on display at Mahr Federal's MD&M EAST booth #1781 will be:


The next generation of Mahr Federal's µMaxµm® line of digital indicators, offering a wide range of new features, including: Dynamic Max, Min, TIR; two point difference measurement; Multiplier Factor for ratio measurements; indicator serial number identification; resolution to 10 µin; selectable continuous output; and longer battery life.


The new generation of Mahr Federal's popular line of MarCal digital calipers. Included in the enhanced line are a number of innovations: lapped guideways; a new Reference System which retains the zero position setting; and an increased number of product options and accessories.


Mahr Federal's line of Dimensionair air gaging products for orthopedic and other non-contact applications. Air gaging is a proven, highly precise and accurate way of measuring bores and tapers often found in orthopedic implants. It is quick and easy to use, requiring little skill on the part of the operator, and is highly adaptable to measuring special features for both dimensional and geometric tolerances.

A full range of other Mahr Federal handheld gages and other dimensional metrology products will also be on display.

Mahr Federal Inc., a member of the Mahr Group, is celebrating its 150th year of providing dimensional measurement solutions to fit customer application needs. The company manufactures and markets a wide variety of dimensional metrology equipment, from simple and easy-to-use handheld gages to technically advanced measurement systems for form, contour, surface finish and length. Mahr Federal is also well known as a producer of custom-designed gages and a provider of calibration and contract measurement services. Mahr Federal's calibration system is accredited to ISO/IEC 17025:2005 NVLAP Lab Code 200605-0. For more information visit www.mahr.com

For additional information, contact:
Marketing
Mahr Federal Inc.
1144 Eddy Street
Providence RI 02905 USA
Tel: (800) 343-2050 or (401) 784-3100
Fax: (401) 784-3246
Email: information@mahr.com
Web site: www.mahr.com

More from Chemicals & Gases