Measurement and Protection System is suited for press brakes.
Press Release Summary: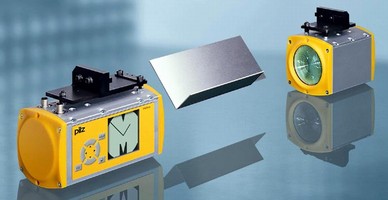 Pilz PSENvip creates protected fields that are constantly monitored and represented on camera unit display, stopping press within 3 ms if object breaches field. Suitable for press brakes up to 32.8 ft long, system comprises of LED-based light source and camera connected to PNOZmulti modular safety controller or programmable safety system. Transmitter and receiver are mounted on upper die and are resistant to vibration and interference, as well as diffused light.
---
Original Press Release:

Pilz Launches a Camera Based Measurement and Protection System PSENvip



(CANTON, MI) - Pilz Automation Safety, L.P., is launching a highly innovative measurement and protection system for press brakes that will reduce industry's reliance on light curtains and increase productivity, due to low-maintenance and reliable operation.

Based on a camera and fail-safe machine vision system, the Pilz PSENvip helps users of press brakes improve productivity and achieve a high standard of safety and quality. It is easy to configure and creates protected fields that are constantly monitored and represented on the camera unit's display. Should any object, finger-sized or smaller, breach the protected fields, the press is stopped immediately (less than 3 milliseconds).

Suitable for press brakes up to 32.8 feet long (10 meters), the system comprises an LED-based light source and a camera unit with an integral display. This camera unit is connected to either a PNOZmulti modular safety controller or a programmable safety system (PSS).

"With its innovative 'parallel vision' optical system, PSENvip is completely resistant to optical influences such as surface reflections, reflection bypass, external light or diffused light," says Dino Mariuz, Engineering Manager, Pilz Automation Safety.

After a tool change, the transmitter and receiver are easy and quick to realign, also due to the "parallel vision" optical system. Both units are mounted on the upper die to save space, and they are resistant to vibration and interference as well as diffused light.

"Previous mobile protection systems have been based on a laser light source, which emitted a bundled light beam (coherent light)," Mariuz explains. "This almost parallel beam needs to be aligned with the upper tool when first commissioned. With the new LED-based solution using PSENvip, the receiver simply needs to be "illuminated" along the upper tool. So the time it takes for initial and subsequent adjustment of the system, to change a tool for example, is simple, fast and user-friendly."

In addition to performing a safety function, the PSENvip also measures the angle of the bend being formed. This data can then be fed back into the press brake's CNC system, helping to make the forming operation as accurate and efficient as possible.

The PSENvip system is suitable for use on safety-related control systems conforming to Safety Category 4 of EN 954-1, Performance Level e of EN ISO 13849-1, and SIL 3 of EN IEC 62061. It also conforms to the requirements of EN DIN 12622, Safety of machine tools - Hydraulic press brakes.

Pilz Automation Safety L.P.
U.S. subsidiary of German Pilz GmbH, Europe's largest and most-respected maker of safety automation equipment, offers leading-edge safe automation solutions and control products.

Products include sensor technology, electrical monitoring relays, automation solutions with motion control, safety relays, programmable safety and control systems and an operating and monitoring range. Safe bus systems are also available for industrial networking. Pilz was the first to develop: the Emergency Safety Relay, the PNOZ product line, now the industry standard; all-electric safety relay, PNOZe1p: 16-amp safety relay, PNOZ power; a safe open-field bus system SafetyBUS p; and one of the first Programmable Logic Controllers (PLCs); and SafetyEYE, the world's first safe camera system for control and monitoring in 3D.

Pilz also provides a comprehensive range of consulting, engineering and training services. Accredited consultants are available for worldwide services for risk assessment, safety concept, safety design, CE services and safety sign-off. Applying lean manufacturing AND safety principles, Pilz LEANsafe(TM) methods increases productivity and safety.

More from Architectural & Civil Engineering Products