Waterjet Cutters and Cutting Machinery
MC Machinery Systems Announces Agreement with AKS Cutting Systems to Manufacture and Distribute its Waterjet Product Line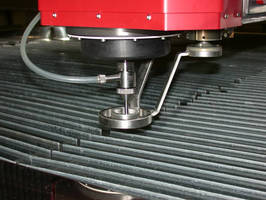 Wood Dale, IL – MC Machinery Systems, Inc., a wholly owned subsidiary of MITSUBISHI Corporation, and one of the world's leading manufacturers of industrial machine tools, announced today that it has entered into a multi-year, definitive agreement with AKS Cutting Systems of Cleveland, Ohio to license, manufacture, market and distribute the MC Machinery waterjet product line throughout North America. The MITSUBISHI Board of Directors has approved the licensing agreement.



Under the terms of the agreement, AKS Cutting Systems will be the exclusive licensee and manufacturer of the MC Machinery MWX Series waterjet products and will begin to manufacture the waterjet products in Cleveland, Ohio. These products will be marketed alongside the current AKS CNC plasma, oxy-fuel and fiber laser technologies. AKS will utilize the strength and durability of the MC Machinery design to offer customers a competitive edge in waterjet cutting, including using the MITSUBISHI CNC control, Taper Control System (TCS) and Ultra-High Pressure 90,000psi.



"I am pleased to announce this agreement, which optimizes and aligns our core competencies, while representing a successful step in our overall strategic plan," says Takuya Yoshino, President of MC Machinery. "In AKS, we have a partner with a strong reputation and proven record of success, who understands the total market. We believe this agreement recognizes the strengths of each of our companies and puts us both into better position to serve our customers and the market."



Dale Phillip, president and principal of AKS Cutting Systems concurred. "We are excited about this agreement with MITSUBISHI, which is known throughout the industry for its innovative and robust waterjet design technology. We are impressed with the company's strong customer commitment through service and dedication to its customers. We are proud to be partners with MC Machinery and look forward to growing the waterjet market with their support. This agreement offers opportunity for all our products through expanded distribution across multiple channels, and is another example of our focus on long-term growth in action."



MC Machinery will support any machines purchased prior to this agreement with parts and service, as well as honor existing warranties.



AKS Cutting Systems, a subsidiary of Kiffer Industries, is a Cleveland-based company that has been at the forefront of high-quality machine tool production for over 90 years. Throughout the years, AKS has developed a strong reputation for durability, accuracy and reliability with thousands of users worldwide. AKS has long-standing relationship with Hypertherm, and is a leading customer of the Hypertherm plasma power supply and CNC equipment.



MC Machinery Systems, Inc., a wholly owned subsidiary of MITSUBISHI, is headquartered in Wood Dale, IL and is a major machine tool leader in CO2 laser, fiber laser, automation, press brake, waterjet, wire edm, sinker edm, high speed mill, vertical and horizontal mills, lathes and more. MC Machinery Systems utilizes the MITSUBISHI CNC Control components throughout their machine tool product line.





More from Software