Mazak Showcases Comprehensive Automation Solutions at IMTS 2018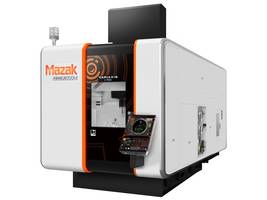 FLORENCE, Ky., September 6, 2018 – At IMTS 2018, Mazak Corporation will give visitors the opportunity to experience the company's full range of automation solutions. In booths #338300 and #432000, Mazak will demonstrate how automation can be used alongside its advanced machine tool technology to achieve lights-out, unmanned operations for either high-volume/low-mix or low-volume/high-mix production environments.
Among the newest innovations on display will be the Multi-Pallet Pool (MPP) System, a basic automation solution in a compact footprint that will be displayed alongside the VARIAXIS i-700 Vertical Machining Center. With the MPP System, shops that lack the floor space necessary to accommodate a conventional linear horizontal pallet stocker now have the ability to automate for continuous operation and part processing flexibility. Designed to expand as production needs grow, manufacturers can reconfigure the system's standard 6-pallet carousel-style stocker to house 18 pallets for even further increased output.
Mazak will also feature the RoboJob standard articulating robot paired with the QUICK TURN 250 Turning Center. The RoboJob utilizes an area sensor to perform a feed hold or full shutdown should it come close to touching anyone in its work space. Designed for flexibility, this easy-to-program solution offers a full range of options for different partqueuing styles, storage capacities and stacking styles.
In addition to newer product offerings, Mazak's full range of solutions will be under power and operating in the company's booths. The GR series will be represented by a GR50 paired with the QTU-200MSY Turning Center with Multi-Tasking capability, while other machines will feature gantry loaders, 2-pallet changers and other smart automation configurations for tight spaces and job shops. Likewise, the company's full PALLETECH system will be highlighted in conjunction with the HCN-6800, a dynamic horizontal machining center perfect for the high-volume production of large and heavy parts.
About Mazak Corporation
Mazak Corporation is a leader in the design and manufacture of productive machine tool solutions. Committed to being a partner to customers with innovative technology, its world-class facility in Florence, Kentucky, produces over 100 models of turning centers, Multi-Tasking machines and vertical machining centers, including 5-axis models. Continuously investing in manufacturing technology allows the Kentucky iSMART Factory to be the most advanced and efficient in the industry, providing high-quality and reliable products. Mazak maintains eight Technology Centers across North America to provide local hands-on applications, service and sales support to customers. For more information on Mazak's products and solutions, visit www.MazakUSA.com or follow us on Twitter and Facebook.
MEDIA CONTACTS:
Mazak Corporation
Chuck Birkle
Vice President, Sales and Marketing
859.342.1641 | cbirkle@mazakcorp.com
or
dgs Marketing Engineers®
Chuck Bates
Vice President
317.813.2230 |
bates@dgsmarketing.com
More from Electrical Equipment & Systems