Mazak Brings Big-part Multi-Tasking Prowess and Advanced CNC to WMTS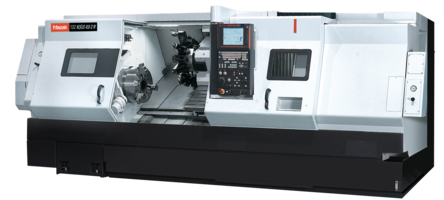 FLORENCE, Ky., April 12, 2017 – At WMTS 2017, Mazak Canada will demonstrate how the QTN 450M turning center with Multi-Tasking DONE IN ONE® capabilities boosts productivity and reduces cycle times for large-diameter, shaft-type part manufacturing in industries such as oil and gas. The company will also run simulations of its MAZATROL SmoothX CNC, the industry's fastest most progressive machine tool control, in booth 213 during the show that takes place June 6-8 in Edmonton, Alberta.
The QTN 450M provides high-performance and value via its single setup turning and milling operations that allow for improved throughput. The machine sports 457-mm (18") chuck mounted on a 50-hp, 2,000-rpm integrated spindle motor main turning spindle for heavy-duty metal removal. The spindle is a full-function, CNC-controlled C axis for milling, and it indexes at 0.0001-degree increments to accurately position parts for square facing and slotting cuts as well as precisely drilled holes.
With a 12-position drum turret and 10-hp, 4,000-rpm rotary tool spindle, the machine performs milling, drilling and tapping operations for highly efficient single-setup part processing.
At WMTS, attendees will also experience Mazak's MAZATROL SmoothX CNC. The control allows for faster and easier programming in either EIA or MAZATROL conversational and contributes significantly to overall shorter part cycle times. It features several advanced functions that include High Gain Feed Forward Control, Fast Rotary Axis Speeds, Variable Acceleration Control and Intelligent Pocket Milling.
The MAZATROL SmoothX CNC, as well as the company's SmoothG and SmoothC controls, are all key to Mazak's SMOOTH TECHNOLOGY, which is a complete process-performance platform that spans the entire part-production landscape, from programming to metal removal to automation to data collection. The CNCs also work alongside recently developed machine hardware and servo systems to bring improved speed, functionality and ergonomics to complex part production.
About Mazak Corporation
Mazak Corporation is a leader in the design and manufacture of productive machine tool solutions. Committed to being a partner to customers with innovative technology, its world-class facility in Florence, Kentucky, produces over 100 models of turning centers, Multi-Tasking machines and vertical machining centers, including 5- axis models. Continuously investing in manufacturing technology allows the Kentucky Mazak iSMART Factory to be the most advanced and efficient in the industry, providing high-quality and reliable products through its "Production-On-Demand" practice. Mazak maintains eight Technology Centers across North America to provide local hands-on applications, service and sales support to customers. For more information on Mazak's products and solutions, visit www.mazakusa.com.
More from Sensors, Monitors & Transducers