Mayzo's Polypropylene "Beta Technology" Helps Thermoformers Overcome Cost, Supply and Capacity Challenges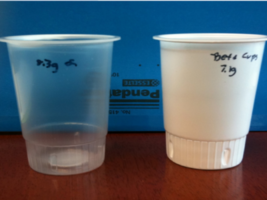 As polypropylene resin prices continue to fluctuate, thermoforming plastics manufacturers are looking for new cost-effective and sustainable solutions. Increasingly, thermoformers are realizing the advantages of Mayzo's proprietary. "Beta Technology" -- a beta nucleating masterbatch which enables processors to use less resin while producing more product, faster. These benefits help thermoformers meet today's challenges, including rising resin costs, transportation difficulties, supply disruptions and sustainability imperatives.
Thermoforming customers are achieving advantages through the use of Mayzo's Beta Technology," stated Dr. Philip Jacoby, a renowned polypropylene expert and retired VP of Technology at Mayzo. "First, they are achieving down-weighting of at least 15%. That means less polypropylene resin is required to produce the same amount of end product. Second, they are realizing a productivity improvement of up to 25%. This faster cycle rate is proving especially valuable for Mayzo's customers in the rigid food packaging business, who also appreciate the masterbatch's broad food contact approvals."
"Other benefits include a dramatic reduction or even elimination of TiO2 pigments used to make white containers" - explains Jacoby. This is a boon to processors who are committed to meeting sustainability goals. By eliminating white pigments from the product, the Post Consumer Resin (PCR) resin recovered has higher value.
Interest in our Beta Technology is significantly increasing," said Ben Milazzo, President of Mayzo Inc. "The positive results achieved through use of this masterbatch are compelling. With the recent industry capacity constraints and escalating PP resin pricing, more and more plastics manufacturers are eager to incorporate Mayzo's Beta Technology into their production lines."
Mayzo provides specialty chemical additive solutions on a global scale in a wide range of markets. Since 1986, customers have relied on the Mayzo team for their ingenuity, responsiveness, and extraordinary service culture.
To learn more visit www.mayzo.com, or contact the company at 1-800-449-9068, or by email at sales@mayzo.com.
More from Materials