MaxLite Adds ECO-T(TM) LED Recessed Troffer to DesignLights(TM) Consortium-Certified Products List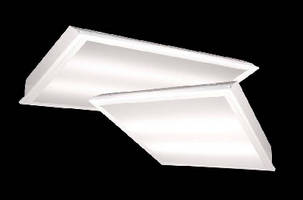 LED Recessed Troffer saves up to 30 percent in energy and is rebatable for an instant ROI

West Caldwell, New Jersey--- MaxLite®, a leading global manufacturer and marketer of award-winning MaxLED® luminaires and lamps, announce the addition of its ECO-T(TM) LED Recessed Troffer to the DesignLights(TM) Consortium's (DLC) Qualified Products List, joining the growing list of indoor and outdoor luminaires that are DLC-approved and qualify for national utility rebates.

"ECO-T is a high-quality product that meets the tough requirements set forth by the DLC, and we are proud to add ECO-T to our growing roster of DLC-approved products," said Pat Treadway, Director of Product Marketing. "When combined with rebates of up to $100 in select areas, the ECO-T has the potential for an accelerated return on investment, which is crucial for businesses and organizations trying to stretch renovation and construction budgets."

Designed as a cost-effective energy efficient alternative to traditional fluorescent fixtures in drop-in ceilings, the ECO-T offers a classic recessed troffer housing with LED strips that emulate fluorescent lamps. Combining high efficacy and a high quality light in a performance- and value-optimized package, the cost-effective ECO-T is ideal for commercial and institutional applications, including schools and municipalities. Featuring a high color rendering index (CRI) of 85, the 45-watt 2'x2' ECO-T delivers up to 3800 lumens, while the 55-watt 2'x4 model delivers up to 4900 lumens. The ECO-T is offered in correlated color temperatures (CCT) of 3500K, 4100K and 5000K, and come standard with a 0-10v dimming driver and prismatic clear diffuser for higher lumens; a translucent diffuser for softer illumination is also available.

Unlike fluorescent fixtures which throw as much as 50 percent light upward, wasting light towards the ceiling, the ECO-T LED Recessed Troffer effectively projects light onto surfaces or tabletops, and saves up to 30 percent in energy without any reduction in lighting levels, and will continue to reduce overall operating costs throughout the lifetime of the fixture. Also, while fluorescent fixtures can buzz and flicker, and may contribute to headaches and eye fatigue, ECO-T is constructed with LM-80-rated LEDs tied to a solid state driver, which supports silent and flicker-free operation. Constructed of sheet steel that provides heat sink and thermal control capabilities, ECO-T is RoHS-compliant and operates coolly and without emitting radiation or heat, for extended life of up to 50,000 hours and reductions in HVAC costs.

The room side, lensed access door, for serviceability and re-lamping of replaceable LED strips, allows for reductions in operating and maintenance costs. With a discrete, interior mounted driver housed inside the luminaire center cover that operates on 120- through 277-volt systems, up to 20 ECO-T fixtures and a master panel can be linked to operate as a synced unit. The fixture profile, including the control box, is just 3.3 inches.

MaxLite's LED lineup of DLC-approved products also includes Flat Panels, Area Lights, full cutoff Wall Packs, Parking and Fuel Canopy Luminaires.

These DLC-approved LED fixtures have been added to MaxLite's extensive database of more than 2,000 national rebates identified by SKU and outlined with their available rebate amounts in a complete state-by-state listing of more than 100 utilities and regions. This database can be accessed at http://www.maxlite.com/utility-rebate-programs.

For spec sheets, please visit www.maxlite.com/PDFs/DataSheets/MLRT22D.ds.pdf for the 2'x2' model or www.maxlite.com/PDFs/DataSheets/MLRT24D.ds.pdf for the 2'x4' model.

About the DesignLights Consortium

The DesignLights(TM) Consortium (DLC) is a collaboration of utility companies and regional energy efficiency organizations that is committed to raising awareness of the benefits of efficient lighting in commercial buildings. The DLC helps builders, architects, designers, and commercial property owners to implement improved design practices in all areas of the commercial lighting market while ensuring that high-quality, energy-efficient lighting design becomes commonplace in all lighting installations.

About MaxLite (www.maxlite.com)

Inheriting global manufacturing and marketing expertise that dates back to 1955, MaxLite was one of the first movers into LED technology in the industry. Committed to energy efficiency as an ENERGY STAR® Partner of the Year in 2009, MaxLite established the MaxLED® brand, an extensive line of indoor and outdoor lighting fixtures featuring innovative LED luminaires and lamps using the latest state-of-the-art LED technology, ranging from the award-winning Flat Panel collection, to the best-selling outdoor lineup, Plug-and-Play light bars and lamps.

Out of the company's two main distribution centers, conveniently located in West Caldwell, New Jersey and Rancho Cucamonga, California, MaxLite ships products within the continental United States within one to three days on standard orders. Through MaxLite's innovative research and development capabilities in its California office, MaxLite continues to be at the forefront of energy efficient technologies. For more information about MaxLite and its products, call 800-555-5629, fax 973-244-7333, email info@maxlite.com, or tweet us at https://twitter.com/maxlitenewsroom.

Related