Maximize Safety and Increase Productivity with The New Mid-level Order Picker from Blue Giant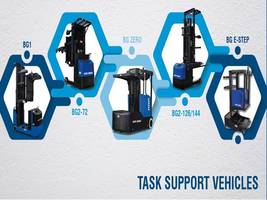 Blue Giant, a long-time manufacturer of low-level material handling equipment, now offers mid-level Order Pickers and task support vehicles which will accommodate the majority of the industries order picking requirements with reliable and cost-effective equipment.
The new Task Support Vehicle series, built for productivity and performance. Maximized warehouse space, move materials safely and reach new heights with operator comfort and control. Compact and highly maneuverable, this line up of vehicles is exceptionally versatile and will reduce the risk of workplace injury.
About Southland Equipment:
Harvey Poston (July 1939-April 2009) founded Southland Equipment Service, Inc. in 1971 as a service company. In the past 48 years, we have expanded our company and established a strong reputation in our community and industry of superior service and quality products.
Southland Equipment Service, Inc. offers full-service in-shop and on-site repairs, an extensive product catalog, equipment rentals, and equipment sales to companies of all sizes. Our quality products, superior services, and professional staff will help you get the job done on time.
Our mission is to satisfy your company's needs and exceed your expectations.
For More Information Please Contact:
Henry W. Richardson
V.P. Marketing
Southland Equipment Service, Inc.
Office: 803-783-1171
Fax: 803-783-2557
[email protected]