Maxim Presents MAX22513 IO-Link Transceiver with Reverse-Voltage and Short-Circuit Protected IO Pins
Press Release Summary: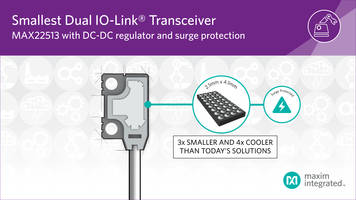 Offered in both 28-pin QFN package and WLP with 3.5mm x 5.5mm and 4.1mm x 2.1mm dimensions
Suitable for industrial IO-link sensors and actuator devices
Operated in -40°C to +125°C temperature range and is integrated with DC-DC regulator and surge protection
---
Original Press Release:
Maxim Unveils Smallest, Most Power-Efficient Dual IO-Link Transceiver with DC-DC Regulator and Surge Protection
MAX22513 provides 3x smaller solution size and 4x lower power dissipation for Industry 4.0 applications
SAN JOSE, Calif., April 2, 2019 /PRNewswire/ -- Designers can now enable smarter digital factories with the MAX22513 surge-protected, dual-driver IO-Link® device transceiver with integrated DC-DC buck regulator from Maxim Integrated Products, Inc. (NASDAQ: MXIM). As the industry's smallest, most power-efficient and robust IO-Link device transceiver, it is ideal for industrial IO-Link sensors and actuator devices.
As Industry 4.0 systems become smarter, sensor and actuator devices must continue to become smaller and more robust while dissipating less power to easily adapt to their manufacturing environments. In addition, integrating multiple discrete solutions into a design makes it difficult for designers to create robust working solutions while meeting time-to-market demands.
The MAX22513 continues Maxim's leadership in enabling adaptive manufacturing for Industry 4.0 applications. By integrating the DC-DC regulator and surge protection while providing 4x lower power dissipation and 3x smaller size versus the closest competitor, Maxim continues to enable the trend towards shrinking IO-Link designs that need robust communications with faster time to market. In addition, integrated surge protection and reverse polarity ensure robust communications in harsh industrial environments to speed up the design process. The IC operates over the -40-degree Celsius to +125-degree Celsius temperature range and is available in both a 28-pin QFN package (3.5mm x 5.5mm) and a WLP (4.1mm x 2.1mm).
Key Advantages
Small Size: Highly integrated IC simplifies design process and shrinks solution size by 3x compared to closest competitor; Integrated surge protection eliminates four TVS diodes compared to Maxim's previous solution
Low Power: 4x lower power dissipation is enabled by low 2Ω (typical) on-resistance drivers as well as a 300mA (maximum load) DC-DC regulator with 80 percent efficiency
Robust Communications: All four IO pins are reverse-voltage protected, short-circuit protected and feature ±1kV/500Ω surge protection
Commentary
"High integration of this caliber has many benefits, but also provides simpler design and faster time to market for designers," said Susie Inouye, research director at Databeans.
"We continue to focus on enabling smaller, lower power and more highly integrated solutions to meet the demands of shrinking, robust IO-Link design," said Timothy Leung, director, Industrial and Healthcare Business Unit at Maxim Integrated.
Availability and Pricing
The MAX22513 is available at Maxim's website for $3.75 (1000-up, FOB USA); also available from authorized distributors
The MAX22513EVKIT# evaluation kit is available for $135
The MAXREFDES171# reference design is fully tested for ±1.2kV/500Ω surge protection; available at Maxim's website
All trademarks are the property of their respective owners.
About Maxim Integrated

Maxim Integrated develops innovative analog and mixed-signal products and technologies to make systems smaller and smarter, with enhanced security and increased energy efficiency. We are empowering design innovation for our automotive, industrial, healthcare, mobile consumer and cloud data center customers to deliver industry-leading solutions that help change the world. Learn more at https://www.maximintegrated.com.
Contact:
Ferda Millan
408-601-5429
Ferda.Millan@maximintegrated.com
More from Electrical Equipment & Systems