Matthews Introduces Easy-To-Use Continuous Ink-Jet Printer and Laser Printer at Southpack 2007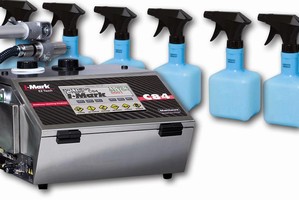 Pittsburgh, PA, March 26, 2007 - Matthews Marking Products will demonstrate for the first time two new systems - a continuous ink-jet printer (CIJ) and a fiber-optic laser printer -- in booth #1435 at the SouthPack 2007 show in Atlanta April 24-26. In addition, Matthews will demonstrate its recently introduced family of case coding/marking systems, ranging from basic 1- and 2-line printing to high-quality, high-resolution printers.

New I-Mark(TM) C84 Continuous Ink Jet - easy to use, low maintenance
The C84's large, easy-to-read, color, icon-based touchscreen (10.4 in.) and single button controls for jet startup/shutdown make it simple to operate and create and change messages. "We think the C84 has the easiest operator interface of any CIJ on the market," said Antonio Cortes del Valle, Matthews' Product Manager.

This printer also features a self-cleaning printhead for fast, reliable, small-character coding of up to 4 lines of text -- expiration dates, batch codes, logos and bar codes -- on a wide range of products of any shape or surfaces. Ideal for cosmetic, snackfood, pharmaceutical, electronic and other applications, the new printer is manufactured in the U.S. (see separate press release on C84)

The large, easy-to-read color icon-based touchscreen (10.4 in.) and single button controls for jet startup/shutdown make it simple to operate and create and change messages. Regular maintenance is only required after 2,500 hours of operation, in comparison to the usual 1,500 hours of competing CIJ printers. The C84 prints characters from .05 in -.61 in. (1.25 mm-15.6 mm) high at a maximum speed of 1,235 ft. per minute (376 m/min.). It may be used with fast dry, non-MEK and pigmented inks for porous or non-porous substrates.

New fiber laser system for on-the-fly marking on metallized materials
The new e-SolarMark FL fiber laser marking system provides on-the-fly or stationary permanent high-quality small character marking/coding of metallized or plastic materials, such as packaging foils. With no consumables and an average life of 100,000 working hours, the new air-cooled laser marking system requires less space - and consumes less energy than typical YAG lasers.

As a standard feature, the new system has the ability to turn text/code 90° and therefore print horizontally or vertically anywhere within the entire marking area. Competing systems require programming to accomplish this, according to Joe Arnold, Matthews' Product Manager.

Applications for the new e-SolarMark FL system include food/snackfood, beverage pouches, candy, cosmetics, pharmaceuticals and others.

New I-Mark(TM) SX-7 and SX-16 for simple, affordable case/tray coding
The new compact, user-friendly SX-7 (1-line printing) and SX-16 (2-line) are Matthews most economical marking systems, priced at less than 25% of the cost of previously available Matthews printers and ideal for packagers needing a basic marking system. Economy is coupled with reliability in the SX family, which uses the company's proprietary Drop-on-Demand (DOD) valve ink-jet technology, capable of operating in challenging environments.

The new SX-7/16 offers more memory than competing entry-level carton marking systems. Easy to install and set up, the SX- 7/16 systems have controller, printhead and ink system integrated into one compact unit that simply plugs in. An icon-based menu and hot keys make the system easy to operate. The pressurized ink using Matthews X-370 water-based ink eliminates the need for an external ink pump.

New low-maintenance, high-resolution IP 7000 eliminates need for labels
The recently introduced IP 7000 ink-jet system for printing text, logos, graphics and bar codes on one or two sides of cartons/trays offers a combination of high print quality, exceptionally low ink consumption (as little as 2% of what DOD systems use to print the same information) and minimal maintenance requirements.

The new system saves on both costs and time: the printing controllers use a repairable print engine from Trident, while Matthews' rugged printheads need no filter changes, recalibration or flushing when the system is shut down.

The IP 7000 is PC-based and network-ready, providing maximum ease in editing print messages -- up to 32 lines of text, fancy graphics and scannable barcodes. With 100 mm printheads, the IP 7000 can print characters/graphics as tall as 3.94 in. (among the highest print height in the industry). Software informs users how many times a particular message can be printed with one 500 cc ink bottle - making it easy to modify the print message so that either print quality or ink savings are maximized.

For more information on the complete range of Matthews Marking Products or the company's exhibit at SouthPack 2007, contact Michelle Spaulding, Matthews Marking Products, 6515 Penn Avenue, Pittsburgh, PA 15206. Telephone (412) 665-2488, fax (412) 365-2042, website: www.matthewsmarking.com. Matthews Marking Products is a division of the Brand Solutions group of Matthews International Corporation.