Matrix Brings Its Robust Cheese Bagging Machine and Pre-Made Pouch Filler/Sealer to the International Cheese Technology Expo, April 23-24 in Milwaukee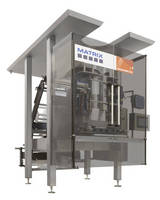 The Matrix Triton XL vertical form-fill-seal machine and Toyo Jidoki Fill-and-Seal pre-made pouch filler provide cheese packers productivity and flexibility. (Matrix Booth # 1627)



SAUKVILLE, Wis. – Matrix Packaging Machinery, powered by Pro Mach, will showcase at the International Cheese Technology Expo, April 23-24, two packaging solutions: one for form-fill-seal bags and the other a fill-and-seal pre-made pouch machine. Both of these wash down ready units are ideal for cheese packaging operations looking for rugged, reliable, and easy-to-use automated packaging solutions. (Matrix Booth # 1627)



The Triton XL, a wash-down vertical form-fill-seal machine can help cheese packers of all sizes and individual needs increase uptime, decrease waste, and improve the overall efficiency. The Triton XL is rated at cycle speeds up to 100 bags per minute. Bag sizes range from a minimum of 3 inches wide by 2.5 inches long to 18 inches wide and 23 inches long. This competitively priced vertical form-fill-seal machine is ultra-heavy duty for long service life. It features a stainless steel 4 by 4 inch extreme duty welded frame.



Available options on the Triton XL include a load shelf for heavier bags and a gas flushing system for modified atmosphere packaging (MAP) applications. This unit comes standard with the Matrix Smart Jaw ST sealing system, automatic web-edge-guide film tracking system, tool free film roll and forming tube changeover, nationally available Allen-Bradley control components, and more.



The Toyo Jidoki TT-8D-N Fill-and-Seal pre-made pouch machine is designed for stand-up, flat bottom, and fifth panel style bags with zip. This newly designed machine incorporates Toyo Jidoki's proven technology with flexibility for shaped pouches to meet changing presentations in the marketplace. The pre-made pouch filler sealer is rated at up to 55 flat, standup, and press-to-close pouches per minute. Pouch size ranges from 4.7-10.2 inches wide to 5.1-15.7 inches long. The machine is easy to clean and wash down. Standard accessories include:



Air squeeze device

Zip open device

Adjustable height seal & cool stand

Pouch opening detection device

Pouch pick up position detection

Product feeding hopper

Product discharge conveyor



Options include:



Date printer

Nitrogen gas flush

Zip close device

Seal area cleaning



For more information about the many different vertical and rotary bagging, pouch filling, and stickpack/sachet solutions from Matrix, call 262-268-8300 and visit www.MatrixPM.com.



About Matrix



Matrix Packaging Machinery is an industry-leading manufacturer of vertical form-fill-seal (v/f/f/s) packaging equipment. Since 1988 Matrix has built a solid reputation for delivering rugged, well-engineered, cost competitive, and easy-to-use packaging systems backed by outstanding customer support. Matrix has v/f/f/s, stickpack, and pouch filling machines in operation throughout the world, handling a wide range of products in very diverse conditions. www.MatrixPM.com



About Pro Mach     

Pro Mach is a leading provider of integrated packaging products and solutions for food, beverage, household goods, pharmaceutical, and other diverse consumer and industrial companies. Through multiple business units and related brands, Pro Mach provides equipment, installation, training, parts, and service in bottling and capping, primary packaging, flexible packaging, identification and tracking, material handling, and end-of-line packaging.



Pro Mach has a diverse customer base, from Fortune 500 companies to smaller, privately held businesses worldwide, which depend on reliable, flexible, technologically advanced packaging equipment and integrated solution sets. Pro Mach is headquartered near Cincinnati, Ohio, with manufacturing facilities and offices throughout the United States and Canada. For more information about Pro Mach, visit www.ProMachInc.com.



More from Packaging Products & Equipment