Automated Storage/Retrieval Systems (AS/RS)
Material Optimisation in Production Sawing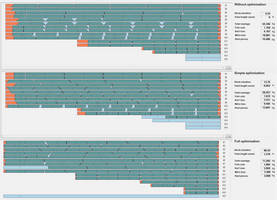 German sawing machine manufacturer, Kasto, has introduced a new optimisation capability in the CNC systems controlling its bandsaws, circular saws and automated storage systems. The software automatically minimises the number and length of bar remnants after a production run, even when both straight and mitre cuts are involved.

Called KASTOoptisaw, the system assesses the stock situation in terms of number of bars, their length, type of material and the number of rest pieces likely to result from processing an order. It then checks whether further orders in the control's memory can be fulfilled in whole or in part by the same piece(s) of material.

By looking ahead at orders that have to be cut and combining them, built-in heuristic and evolutionary optimisation algorithms work out how best to use the available material so that the gaps between cuts and the unused lengths at the ends are minimised. The advantages are especially beneficial when expensive materials are being processed.

Different criteria for the optimisation may be selected, such as prioritising the cutting of remnants, or using as few bars as possible to avoid stock transportation and changeover.

In the case of integrated sawing cells comprising CNC saw(s) and an interlinked material store, continuous real-time optimisation is possible.

Illustration: An example of KASTOoptisaw in action. Top: without optimisation. Centre: with simple optimisation. Bottom: with complete optimisation.


More from Material Handling & Storage