Material Handling System provides pneumatic conveying.
Press Release Summary: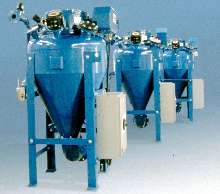 Using high pressure gas, DensPhase(TM) conveys material from one collection point to single or multiple reception hoppers via enclosed, dust-free process. Constructed of stainless steel, system operates at temperatures up to 836°F with throughput rates up to 100 tons. Spheri(TM) Valve incorporates inflatable sealing arrangement. System components include electro-pneumatic controls, air supply piping, and pressure regulation and control equipment.
---
Original Press Release:

Clyde Materials Handling DensPhase(TM) Systems Offer Simple, Flexible and Reliable Pneumatic Conveying


MILFORD, OH (November 8, 2002) -The DensPhase(TM) System from Clyde Materials Handling is a simple, flexible and highly reliable method of pneumatically conveying material from a single collection point to either single or multiple reception hoppers.

The Clyde pneumatic conveying process is enclosed, dust-free and less harmful to the environment than traditional methods, ensuring that material transfer complies with stringent EPA. OSHA and other international regulations.

Using high pressure gas to convey material along smaller pipelines at low velocity, Clyde DensPhase systems offer high transfer rates, low wear rates, reduced energy costs and only minimal manpower to operate.

Ensuring minimal breakage of friable products, the wide range of Clyde denseveyor machines share standard components, yet are individually tailored to handle specific requirements of a wide variety of materials.

Originally developed by Clyde in the 1970s to convey foundry sand, the Clyde DensPhase Pump has been fine-tuned to efficiently handle all types of bulk solid materials, from fine cohesive powders to wet lump coal.

Equally suited to transfer either from storage into process or from process into storage, Clyde DensPhase systems can operate at temperatures up to 836°F (480°C) with throughput rates up to 100 tons at long distances.

The inherent simplicity of the unique Clyde Spheri(TM) Valve, the only moving part in the Clyde DensPhase Pump that incorporates an innovative and highly reliable inflatable sealing arrangement, ensures reliability and low maintenance.

Clyde DensPhase vessel assemblies are supplied fully assembled and tested, complete with the Clyde Spheri Valve, electro-pneumatic controls and air supply piping, pressure regulation and control equipment pre-piped and pre-wired ready for connection to isolated air and electric supplies.

Vessels are manufactured to ASME VIII Div. 2 for a working pressure of 100 psig. Since vessels are free standing, no special foundations are required.

The extensive range of Clyde DensPhase pneumatic conveying systems have been expanded with the addition of DensFeed(TM), an innovative array of dense phase, low velocity conveying vessels designed to meet the specific needs of the food and pharmaceutical industries.

DensFeed provides an economical solution to high throughput, long distance conveying and complies with all environmental, health and safety regulations. Equipped with an inlet butterfly valve with EPDM food quality seal. DensFeed can be easily disassembled so components can be thoroughly cleaned and disinfected either in place or in an autoclave.

Constructed of stainless steel with a choice of mirror, satin or bead blast internal and external surface finishes, the vessel body is completely crack and crevice free.

Clyde Materials Handling is a market-leading manufacturer of systems for bulk materials handling, including DensPhase(TM) and RotoFeed(TM) pneumatic conveying systems, ancillary materials handling equipment such as SpheriValve(TM) bulk materials cut-off valve, and a variety of routing valve styles. The company serves a global market in the food, pharmaceutical, metals, minerals, chemical. agriculture, aggregates, ports and petrochemical industries.

To find out more about all the ways that Clyde DensPhase systems can solve your mineral pneumatic conveying challenges, contact Graham Cooper, Clyde Materials Handling. 102 Ford Circle. Unit A. Milford, OH 45150 USA, (513) 576-9200, Fax (513) 576-9300, or e-mail: gcooper@clydematerials.com, www.clydematerials.com.

Related