Automated Guided Vehicle Systems
Material Handling Solution transforms from MGV to AGV.
Press Release Summary: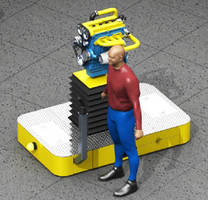 Customizable with regards to lifting capacity and deck size, Manual Guided Vehicle features hydraulically powered scissor lift mounted in center of frame. Self-propelled cart can safely and ergonomically lift, hold, turn, and transport unfinished goods. Modular design allows system to be retrofitted with control package for use as automatic guided vehicle. Operated by DC power, MGV/AGV offers lifting capacities from 500–3,000 lb or more, ramped acceleration/deceleration, and 3-wheel carrier.
---
Original Press Release:

Handling Specialty launches MGV to AGV Material Handling Solution



Handling Specialty Manufacturing's Manual-to-Automatic Guided Vehicle "The material handling solution that grows with you"



Grimsby, Ontario, Canada – Handling Specialty Manufacturing Ltd., a company that engineers and manufactures innovative and robust custom material handling equipment for companies worldwide, is excited to announce the launch of the MGV / AGV -- a Manually Guided Vehicle that can be quickly and easily transformed into an Automatic Guided Vehicle as your company grows.



"Our goal in developing this piece of equipment is to provide manufacturing companies the means to easily move from their current manual assembly line process to a manually guided, then fully automated line without having to make significant infrastructure change and investment," says Thomas Beach, Handling Specialty president. "The MGV can give you the flexibility to grow your assembly line to make it is more efficient, faster, more safe and ergonomically correct for your manufacturing team. We call it 'the material handling solution that grows with you'."



The MGV is a heavy duty, robust, self propelled cart with a hydraulically powered scissor lift mounted in the centre of the frame. It is fully customizeable with regards to lifting capacity and deck size. It has been specifically designed to increase the production of high end manufactured goods at companies that are focused on growth and increasing efficiency.



This material handling solution can securely lift, hold, turn (with added tooling) and transport unfinished goods more safely, quickly and ergonomically than old fashioned pull or push carts. In addition, the MGV allows companies to install an assembly line with virtually no installation costs or processes as the cart requires no overhead or underfloor power, towline systems, conveyor belts or lines. It can be set up in any location in a short amount of time and can help move your company one step closer to increased productivity.



Says Beach, "The modular design of the MGV will allow it to be retrofitted with a control package to allow our end-users to evolve into AGVs as they continue down the path of lean manufacturing. Our simple migration path from MGV to AGV eases the financial risk for our target market end-users."



Some of the features and benefits of the MGV / AGV include:




Operated by DC power – No overhead power drops needed, no power cords



DC Drive Motor - Integral brake, no additional action required to stop carrier



DC Drive controller – Ramped acceleration and deceleration, provides smoother starting and stopping



Hydraulic scissor lift – Lifting capacities from 500 lbs to 3,000 lbs (or more)



Three wheel carrier – Ensures drive wheel is always in contact with floor



Steering/Drive handle – Single person operated carrier can help save human resources; also creates ergonomic workstation



Velocity fuse on lift – Provides rate of descent protection



Option – Sensors to ensure total safety



Handling Specialty conducted significant market research into potential end-users prior to developing the MGV to AGV concept. Some examples of potential end-users could be furniture manufacturers, agricultural equipment, lawn care equipment, white goods – kitchen appliances, electrical generators, engines, golf carts and side by sides, recreational vehicles, electric vehicles and many more.



The MGV will be on display at the world's largest material handling show, ProMat 2015, being held March 23 to 26 at the McCormick Center in Chicago, at Handling Specialty's Booth 4256. Handling Specialty will be unveiling the details on the MGV to AGV transformation package at the show.



Come see just how efficient, ergonomic and lean your manufacturing processes can become.



For more information contact:

Mary Haurilak

Marketing Manager

Handling Specialty Manufacturing Ltd.

219 South Service Road West

Grimsby, Ontario, Canada L3M 1Y6

Telephone: 905.945.9661 ext 264 

email: mhaurilak@handling.com



About Handling Specialty Manufacturing Ltd.:

Handling Specialty is one of the world's most pre-eminent custom designers and manufacturers of material handling solutions since 1963. The company's reputation is one of a competent problem-solver because it has built a strong history of providing unique, customengineered solutions. This ability to solve problems has allowed Handling Specialty to achieve success in many sectors including rail/transportation, automotive, advanced manufacturing, aerospace, entertainment and metal processing industries. Handling Specialty is located in Grimsby, Ontario with a second plant located in Hamilton. The company is registered ISO2008-9001and CSA Z2.99

More from Computer Hardware & Peripherals