Material Handling Control System includes graphical HMI.
Press Release Summary: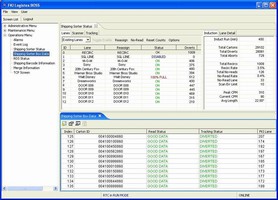 PC-based BOSS(TM) system combines productivity monitoring tools, machine control, data collection, system diagnostics, and HMI into single software package. HMI provides access to status, diagnostic, preventative maintenance, and control information, while client-server capability runs on Windows XP, Linux, Solaris, QNX, AIX, HP-UX, and Mac OSX. I/O support includes ControlNet, DeviceNet, EtherNet/IP, Modbus TCP, with flexibility to add additional platforms as needed.
---
Original Press Release:

FKI Logistex Announces Latest Release of Boss PC-Based Material Handling Control System



New BOSS system adds control flexibility and intuitive interface to robust PC-based control for fast, accurate and efficient material handling

(Cincinnati, OH, USA: March 29, 2006) FKI Logistex® (www.fkilogistex.com), a global leader in integrated material handling solutions, announces the latest release of its BOSS(TM) PC-based material handling system. The new BOSS system adds high-tech flexibility to a proven control system for fast, accurate and efficient material handling and increased distribution center throughput. New features include a built-in networked graphical Human Machine Interface (HMI), multiple processor capabilities, and support for a variety of I/O platforms.

The FKI Logistex BOSS system is a complete, PC-based control solution that lets distribution center managers direct and measure the productivity of their material handling systems. It combines productivity monitoring tools, machine control, data collection, system diagnostics and HMI into a single software package.

"Unlike PLC-based systems that require multiple levels of control, BOSS eliminates unnecessary layers of redundancy by employing a single, integrated software solution to material handling system control," says Jerry Koch, product director, software and controls, FKI Logistex North America. "The software's robust, scalable design enables a variety of control system products to be connected to it, including PLCs and hybrid systems."

New Features & Benefits
A simplified system architecture and set of new features provide BOSS users with a variety of benefits. The software's new windowing HMI is more intuitive and provides easy access to status, diagnostic, preventative maintenance and control information.

The new BOSS HMI provides client-server capability that runs on Windows XP, Linux, Solaris, QNX, AIX, HP-UX, and Mac OSX. Built-in HMI capabilities include control, status and diagnostic screens that automatically adapt to the native platform's look and feel. A number of additional standard HMI screens are included for system performance, carton tracking, alarm monitoring and more. When special screens are needed, the BOSS HMI can be customized for a wide range of applications. These new features provide enormous flexibility to meet customer requirements and support capabilities.

The system's new Integrated User Management centralizes the configuration of system access. Individual access can be configured based on default job or role privileges, allowing the system to automatically adapt which screens are available to each individual. User access information is configured once and then shared automatically with all client instances of the HMI, reducing system management efforts.

BOSS takes advantage of a powerful real-time operating system (RTOS) to provide flexible and information rich PC-based control solutions. New enhanced multi-processor support in BOSS allows a single controller to manage, control and process more data and equipment, providing new opportunities for controls implementation.

I/O support in BOSS now includes ControlNet, DeviceNet, EtherNet/IP, Modbus TCP, and the flexibility to add additional I/O support as needed, such as ASI and Profibus platforms.

The new BOSS release continues the FKI Logistex tradition of industry-leading controls with high-tech capabilities. Continuing the commitment to its customers, this new release allows FKI Logistex BOSS customers to leverage their controls investment and easily migrate existing applications. Following migration, older applications can take advantage of the new and enhanced BOSS features.

As always, the FKI Logistex BOSS control system seamlessly integrates with a warehouse management system (WMS) to exchange carton data, including the planned, current and actual routing information based on a specific carton's real-time and historical data. No special information bridging system is needed.

Additional BOSS features include the ability to add graphics, monitoring utilities, and historical trending so that users can customize the controls to their particular application while maintaining a common interface across all facilities and systems. The result is reduced system complexity, minimized connectivity issues, and improved flow of system management information.

For sales and marketing information, please contact Emily Steffens, marketing coordinator, FKI Logistex North America, by phone at (513) 881-5239 or by e-mail at emily.steffens@fkilogistex.com.

About FKI Logistex
FKI Logistex® (www.fkilogistex.com) is a leading global provider of automated material handling solutions, supplying its customers with an integrated set of leading-edge technologies in high-speed sortation, conveyor systems, palletizing, paperless pick products, AS/RS, controls, order fulfillment systems, RFID implementation, EDS integration, baggage handling systems, warehouse control systems, and total material handling automation.

FKI Logistex provides material handling solutions for airports, postal facilities, parcel distribution, manufacturing operations, library automation, and for warehouse and distribution facilities. With projects that include many of the world's largest and most advanced material handling operations, FKI Logistex has manufacturing, engineering and support facilities around the world. For more information on FKI Logistex, click here to visit the FKI Logistex media center. For general sales information, contact FKI Logistex by phone at +1.877.935.4564 in North America, +44 (0) 8706 060120 in Europe, or +86 21 52372255 in Asia. Contact FKI Logistex by e-mail at info@fkilogistex.com.

More from Computer Hardware & Peripherals