Material Handling Cart promotes lean manufacturing.
Press Release Summary: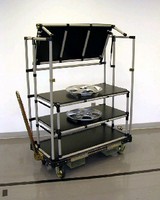 Multi-Tasking Drawbridge Cart consists of tilt-up shelves, supported and lift-assisted by gas-charged struts. As shelves are cleared of inventory, they can be raised up and out of way, providing access to items on successive lower levels. Utilized as cart with casters or as stackable rack when equipped with appropriate feet and receptacles, unit is suited for over-the-road shipping, intra-facility part conveyance, safeguarding fragile components, and synchronized build operations.
---
Original Press Release:

Latest Material Handling Structure Spans 'Lean' Transport Applications



Creform® Corporation (Greer, SC) continues its work to provide innovative design concepts utilizing the company's Creform® System-a series of plastic coated steel pipe, joints and accessories-to create efficient, economical material handling structures that promote lean manufacturing. One of their latest adaptations, designated the 'Drawbridge' Cart, is a multi-tasking transport structure. It is ideal for multiple uses...over-the-road shipping...intra-facility part conveyance...safeguarding fragile components...easy access to parts...simple inventory control measures...sequenced, synchronized build operations...kit-style assembly methods...and with Creform's design flexibility and construction simplicity to custom match application needs. The Drawbridge Cart concept consists of tilt-up shelves-supported and lift-assisted by gas-charged struts-that, as shelves are cleared of inventory, can be raised up and out of the way, providing enhanced access to items on successive lower levels. The Drawbridge units are well suited for sequential operations.

Because the tilt shelves when raised, provide virtually unlimited access to lower levels, the spacing between levels can be minimized, eliminating the need for built-in access clearance of conventional stationary shelving. Thus, by narrowing the space between the levels, the Drawbridge Cart can be constructed with more levels to improve the use of floor space by minimizing the cart's footprint to load capacity ratio. To further enhance its space-saving features, the Drawbridge Cart concept can be fashioned as both a cart (with casters) and as a stackable rack (when also equipped with the appropriate feet and receptacles). Fork pockets can be incorporated in the design for pickup by lift trucks.

New Creform Mounting hardware allows the use of gas struts, similar to those found in automotive trunk and hatchback applications. The gas struts help control the speed of raising and lowering while helping to counterbalance the weight of each tilt-away shelf.

The flat surface shelves can be of wood, plastic or metal, or a lightweight grating material. Shelf construction can also be enhanced with foam dunnage for part protection, shadow boards for organization, or compartmented to prevent part impingement. When used for over the road transport, the shelves can be spaced so that, when in the lowered position, a shelf's parts are constrained by the shelf above. This automatic retention minimizes the risks of product damage and parts loss without the need for supplementary in-process packaging. In addition, Creform's wide selection of components also includes latches that may be used to provide secure shelf lockdown during transport.

The Drawbridge Carts can also be configured with a towing hitch for transport behind a tugger. Creform offers both a towing tongue and a latch so that multiple carts can be trained together to optimize vehicle utilization. The carts can be equipped with either stem-style or bolt-on casters, available in a variety of wheel materials and sizes to facilitate travel over most floor and surface conditions, and work loads.

Each cart concept can have all shelves that tilt, or a mix of stationary and moveable units. Or, carts may be partitioned, where one (or more) sections have tiltable shelves, while other sections are stationary, and, in fact, the configurations are virtually limitless.

First, the Creform System itself allows for flexible frame construction, with sizes (height, width, depth) and configurations being determined by factoring optimal load capacities, inventory flow rates and maneuvering/floor space availability into the design criteria. This design simplicity is enhanced by the system's ease of construction, where the plastic-coated pipe sections can be cut to required lengths with either a manual or powered pipe cutter, band saw or chop saw. For assembly, the system utilizes either metal joints that clamp onto pipe sections via a threaded fastener, or plastic joints that are 'welded' to the pipes with a Creform-formulated adhesive. To assist in error-proofing operations, Creform provides pipe and tube sections in a wide variety of colors that can be used to signify various department destinations and help to visually distinguish parts for different models or lot sequences.

In addition to the Drawbridge Carts, the Creform System can also be used to construct carts and racks including compartmented dunnage carts/racks and custom dunnage supports, brackets and hold-downs. Other representative examples of material handling and work assist structures include single angle and dual angle flow racks; a 'hybrid' flow/storage rack with easy, tool-less shelf height adjustment; simple part presentation stands; push carts and trailers; roller conveyors; hinged shelf carts; tilting racks and tables; height adjustable work tables and workstations along with the portable tool cribs and locking storage units. The Creform System can also be used to implement economical and easy-to-install Automated Guided Vehicle systems for efficient automated material delivery units.

Visit www.creform.com for additional information regarding Creform Corporation, its products and applications.

More from Electrical Equipment & Systems