Mated and Unmated IP67 RF Adapters operate up to 6 GHz.
Press Release Summary: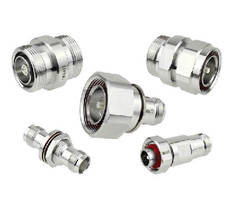 With IP67 rating, RF Adapters are virtually impenetrable to contaminants such as dust, sand, and water. In-series adapters include 7/16 DIN, 4.1/9.5 mini-DIN, Type-N, and TNC, while between-series versions include 7/16 DIN to 4.1/9.5 mini-DIN, 7/16 DIN to Type-N, and 4.1/9.5 mini-DIN to Type-N. Compatible with all like-series connectors, cables, and passive/active components, adapters offer VSWR of 1.15:1 to 1:25:1, depending on connector type.
---
Original Press Release:
Fairview Microwave Debuts Comprehensive Lines of IP67 RF Adapters
Unmated and Mated IP67 Adapters Up to 6 GHz Introduced by Fairview Microwave

Allen, TX – Fairview Microwave Inc., a preeminent supplier of on-demand microwave and RF components, introduces a comprehensive line of IP67 RF adapters commonly employed in the DAS, cellular, aviation and military industries due to their ingress protection from water and dust.

Fairview Microwave's new RF adapters are IP67 rated, meaning they use advanced ingress protection to make them virtually impenetrable to contaminants like dust, sand, and water. Offered in this release are in-series adapters including 7/16 DIN, 4.1/9.5 mini-DIN, Type-N and TNC. Between-series versions include 7/16 DIN to 4.1/9.5 mini-DIN, 7/16 DIN to Type-N and 4.1/9.5 mini-DIN to Type-N. They are compatible with all like-series connectors, cables and passive and active components. Each adapter operates to 6 GHz with excellent VSWR of 1.15:1 to 1:25:1 depending on the connector type.

Fairview's ingress protected RF adapters also come in two different versions, "Mated" and "Unmated". "Mated" adapters meet the requirements of IP67 only when both ends of the adapter are terminated in mating connectors.  "Unmated" adapters meet the requirements of IP67 even when one or both ends of the adapter are unterminated.

"In outdoor RF communications installations, ingress protection against dust and water is imperative. This new line of IP67 adapters offers the highest level of dust and water protection without the addition of costly and time-consuming weatherproofing tapes", says Greg Arnold, Technical Sales Manager at Fairview Microwave. "Our extensive offering includes IP67 adapters compliant in the mated and unmated condition ensuring you get the level of protection you need."

Fairview Microwave's IP67 adapters are in-stock and available now. You can view these new products by visiting http://www.fairviewmicrowave.com/rf-products/ip67-rf-adapters.html directly.  For additional information, Fairview can be contacted at +1-972-649-6678.

About Fairview Microwave
A leading supplier of on-demand RF and microwave products since 1992, Fairview Microwave offers immediate delivery of RF components including attenuators, adapters, coaxial cable assemblies, connectors, terminations and much more. All products are shipped same-day from the company's ISO 9001:2008 certified production facilities in Allen, Texas.

Press Contact:
Greg Arnold
Fairview Microwave
17802 Fitch
Irvine, CA 92614
(949) 261-1920

Shaun Gameroz
Marketing Manager
(O) 972-649-6678
(F) 972-649-6689
1130 Junction Dr. #100 
Allen, TX 75013
shaun@fairviewmicrowave.com 
www.fairviewmicrowave.com
Related