Mate Precision Tooling to Exhibit Ultra® Fully Indexable Multi Tool, ULTRAFORM(TM) Holders, and Rollerball Deburr(TM) Tooling at the China International Machine Tool Show Booth W4-A105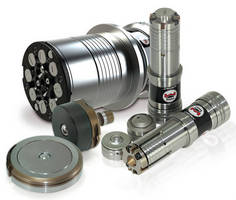 Anoka, Minnesota: Mate Precision Tooling will exhibit the latest in tooling system technology at the China International Machine Tool Show, Asia's largest fabricating, forming and tooling equipment exhibition. See April 11-16 at Booth W4-A105 at the China International Exhibition Center, Beijing, China.

New Mate Ultra® IMT(TM) Fully Indexable Multi Tool Can Achieve Any Angle Setting On The Workpiece
Unlike standard multi tools having just one angle setting, Mate's Ultra IMT Fully Indexable Multi Tool can achieve any angle setting on the workpiece. Patent pending, Ultra IMT is designed to use Mate Ultra punches, strippers and Slug Free® dies eliminating the need for specialized tooling inventory. Assembly and disassembly is very simple - no tools are required for punch, striker and stripper retention/removal. Ultra IMT features a drop in quick tool change design that allows for fast tool changes, reducing machine downtime while increasing productivity.

Show visitors will see how the Mate Ultra IMT maximizes existing punch press output with features such as: integral punch length adjustment, variable stripping force options, fully ported lubrication, easy active station identification, ergonomic design and many others. Available in 3-station and 8-station versions.

New Mate ULTRAFORM FX(TM) and XT(TM) Holders For Thick Turret Punch Presses
Mate's new ULTRAFORM FX AND XT holders provide affordable interchangeability with Mate's top-of-the-line ULTRAFORM® insert system. These holders reduce holder complexity for machines with precise stroke control and for machine users who infrequently use or don't want length adjustment.

Mate's ULTRAFORM system is the ideal forming tool system because fabricators may use one holder with a wide variety of special forming inserts - anything from countersinks and continuous beads to formed embosses for logos and branding. The benefits include reduced tooling cost and increased flexibility.

New Mate Rollerball Deburr(TM) For Thick Turret and Trumpf Style Presses
Mate's new Rollerball Deburr tool eliminates burrs and secondary operations on punched parts. The Rollerball Deburr pushes the burr away and creates a radius on the side of punched parts. Using a special ball in the upper and lower part of the tool, all part contours can be processed and deburred, even in tight corners.

This new Mate tool takes advantage of Mate's exclusive Rollerball(TM) technology. This innovation utilizes the extended programming capabilities of punch presses that can operate in the x and y axis with the ram down. Rollerball Deburr is available for Thick Turret and Trumpf Style applications.

See All Of Mate's Tooling Products At The China International Machine Tool Show Booth W4-A105
In China, for more Mate information, contact Mr. Wei Sun at: Tel: +86-(0) 21-6165 0790 Email: wei.sun@mate.com Fax: +86-(0) 21-3332 1007 Handy: +86-138-17142006.
Outside China, for more Mate information, call 1-763-421-0230. Fax 1-763-421-0285. Or write to MATE PRECISION TOOLING, 1295 Lund Boulevard, Anoka, Minnesota 55303. Website: www.mate.com or email marketing@mate.com

ABOUT MATE PRECISION TOOLING:
Founded in 1962 and headquartered in Anoka, Minnesota, Mate Precision Tooling is a leading global manufacturer of original and replacement tooling for CNC punch presses with manufacturing facilities in the USA and Germany.

Mate holds numerous patents worldwide, which is evidence of its innovation in tooling design. Mate's leadership position is the result of five decades of specialization, service and customer satisfaction. End users and original equipment manufacturers look to Mate for innovation in a wide range of products such as punch holders, die holders, cartridges, multi-tools and more. For additional information, go to www.mate.com.

More from Optics & Photonics