Mate Precision Tooling Brings One Source Fabricating Solutions to FABTECH Las Vegas 2016, Booth C36069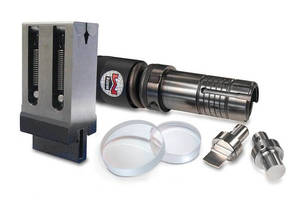 See Mate's New Ultra® QCT™ Quick Change Tooling, CleanBend™ Press Brake Tooling, One-Micron Fiber Laser Lenses And Much MORE…



Anoka, Minnesota: FABTECH Las Vegas begins at the Mate Precision Tooling exhibit at Booth C36069 in Las Vegas, Nevada November 16 -18. See Mate's greatly expanded One Source Fabricating Solutions -- new Ultra® QCT™ Quick Change Tooling, CleanBend™ Press Brake Tooling, One-Micron Fiber Laser Lenses and MORE…



New Mate Ultra® QCT™ Is Quick Change – Tool Less – Revolutionary Tooling



Mate Ultra QCT tooling is simple and intuitive to setup, and fully compatible with Mate's Ultra® family of guides and standard canisters. To setup, flip the latch to remove and snap the new insert into place; it's that easy! The punch is keyed at the perimeter of the tool – not the center – providing superior angularity control. The shoulder of the punch remains securely guided by the guide when punching. Another nice feature – only one punch driver is needed for rounds or shapes.



Made from M4PM™ tool steel, Mate Ultra QCT is proven to be the most durable, longest lasting tool steel in the industry. And it's coated with SuperMax™, Mate's next generation coating, to minimize wear and preserve fits. Mate Ultra QCT truly revolutionizes punch press tooling.



New Mate Salvagnini Style "P0" Fully Guided Perforating Tool



Designed to accommodate any shape up to 0.492" (12.50mm) diameter, Mate's new Salvagnini "P0" fully guided perforating tool has all the quality features you expect from Mate. Tight stripper clearance prevents lateral punch movement for assured accurate hole punching. Mate's specially formulated MPM82 powdered tool steel has superior wear resistance for longest tool life. The fully guided tool is designed for smaller hole sizes in the 7 ton stations of Salvagnini punch presses. With this product, Mate now provides users the ideal perforating solution for both the low and high range sizes of the 7 ton station.



New Mate SuperMax™ Tool Coating Enhances



Tool Performance And Extends Tool Life



Mate's new SuperMax™ is a proprietary, next generation coating specifically formulated for punch press tooling. SuperMax outperforms currently available premium coatings by 2 to 8 times, depending on the application. Applied using the latest nano-layer technology, SuperMax's harder, denser film greatly increases wear resistance and has a much lower friction coefficient. Lower friction means less heat build-up, less galling and longer tool life. SuperMax works in a wide range of materials including aluminum, cold rolled, galvanized and stainless steels, vinyl coated and fiberglass.



New Mate CleanBend™ Forming Technology for Press Brakes



Mate's new CleanBend forming technology for press brakes enables high quality sheet metal forming with minimal to no marking of the metal. CleanBend is designed for a wide range of applications including: bending short flanges; bending a flange to a diagonal sharp or across existing holes; bending delicate or polished materials, including plastic coverings and much more. Using rotating supports, the process mimics a folding operation.



Mate 1 Micron Optics For Fiber Lasers



Mate continues to expand its laser optics offerings with the introduction of 1 Micron Optics for fiber lasers. These fused silica lenses and mirrors are the best performing optics with superior coating and low absorption. 1 Micron Optics are approved for use in leading brand fiber lasers.



Mate Lensmate Makes Amada Lens Mounting Easy



Mate Lensmate makes lens remounting an easy, in-house task. No springs, screws or iridium wire to deal with. Simply separate housing by twisting the Lensmate apart, replace the lens and twist back together. For Apelio, Gemini, FONT and Pulsar Amada laser models.



See all of these great new Mate Products and more at FABTECH 2016. Visit with a Mate fabrication professional and you'll find new ways to fabricate smarter, operate leaner and boost productivity. Mate is the only one source for all punch press, press brake tooling and laser consumable products -- all supported by experienced sales engineers that can provide in-field technical support. .



Booth C36069 is the Mate Precision Tooling exhibit at FABTECH 2016 in the Las Vegas Convention Center, November 16-18.



For immediate product information, in USA and Canada, call 1-800-328-4492.

Outside USA and Canada, call 1-763-421-0230. Fax 1-800-541-0285.

Website: www.mate.com Email: marketing@mate.com



MATE PRECISION TOOLING corporate headquarters is located at 1295 Lund Boulevard, Anoka, Minnesota 55303.

More from Mechanical Components and Assemblies