Matco-Norca Adds Grooved Couplings & Nipples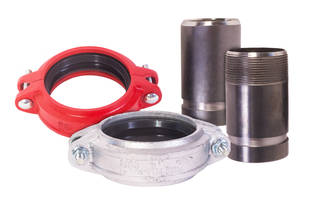 Brewster, NY, December 18, 2017 – Matco-Norca has introduced new grooved couplings and nipples to its PVF products inventory.
Grooved Couplings come painted or galvanized in sizes 1" – 12". They have a ductile iron body (ASTM A536), feature EPDM gaskets, and are UL/FM approved.
Schedule 40 Grooved Nipples are available in either grooved x beveled or grooved x threaded configurations and conform to ASTM A53 and ASME B1.20.1 standards.
All grooves are cut per the AWWA C606 standard. Groove Nipples from Matco-Norca come in sizes: 2"x 4", 3" x 3" and 3" x 4".
For complete product information, visit www.matco-norca.com and click on Fittings for Grooved Couplings and Nipples for Grooved Nipples.
About Matco-Norca
Matco-Norca, headquartered in Brewster, NY, is a leading supplier of globally sourced, code compliant Plumbing and PVF products for use in residential, commercial and industrial applications. In business for over 60 years, Matco-Norca operates four national distribution centers and select regional warehouses. www.matco-norca.com.