Mass Spectrometer supports fully automated microanalysis.
Press Release Summary: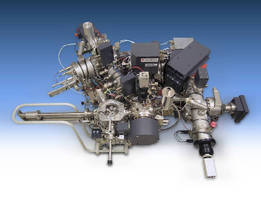 Delivering precision elemental and isotopic analysis, IMS 7f-Auto Secondary Ion Mass Spectrometer is optimized for glass, metals, ceramics, Si-based devices, III-V and II-VI devices, bulk materials, and thin-films. With motorized storage chamber and sample transfer, unit can analyze multiple samples in chained or remote mode, possibly overnight. Design of primary column, coupled with automated routines for primary and secondary column tuning, ensure precision measurement with long-term stability.
---
Original Press Release:

Cameca Launches New Dynamic SIMS Instrument: IMS 7f-Auto for High Throughput, Fully Automated Microanalysis



GENNEVILLIERS, FRANCE - GENNEVILLIERS, FRANCE - CAMECA, a world leader in scientific instrumentation and metrology solutions, has announced the release of the latest version of its successful IMS 7f Secondary Ion Mass Spectrometer -the IMS 7f-Auto. The new instrument is designed to deliver ultimate precision elemental and isotopic analyses with increased ease of use and productivity and to push the boundaries of advanced materials research applications.

"CAMECA is very proud to introduce the IMS 7f-Auto," notes Georges Antier, CAMECA Vice President and Business Unit Manager. "This highly sophisticated magnetic sector Secondary Ion Mass Spectrometer integrates mature technologies from CAMECA's SIMS with additional developments, including a fully redesigned primary column, a motorized storage chamber, and new, advanced automation routines.

"The IMS 7f-Auto benefits from CAMECA's more than a half century of experience with SIMS technology," adds Georges Antier. "The superiority of the CAMECA magnetic sector SIMS is well established. This includes extreme sensitivity, the highest dynamic range on the market, the best detection limits for light and trace elements, and high analysis throughput."

The newest model achieves even higher throughput since multiple samples can be analyzed in chained mode, possibly overnight, thanks to a new motorized storage chamber. The new design of the primary column, coupled with automated routines for both primary and secondary column tuning, ensure high-precision measurement, long-term stability, ease of use, thus enhancing the overall tool productivity.

CAMECA optimized the performance of the IMS 7f-Auto for challenging applications, such as glass, metals, ceramics, Si-based devices, III-V and II-VI devices, both bulk materials and thin-film technology, fulfilling industry requirements for both efficient device development and process control.

About CAMECA

CAMECA has more than 50 years of experience in the design, manufacture and servicing of scientific instruments for material micro- and nano-analysis. Since pioneering Electron Probe Microanalysis (EPMA) instrumentation in the 1950s and Secondary Ion Mass Spectrometry (SIMS) in the 1960s, CAMECA has remained an undisputed world leader, while achieving numerous breakthrough innovations in such complementary techniques as LEXES and Atom Probe Tomography.

More recently CAMECA has evolved successfully from a manufacturer of scientific instrumentation for the international research community to a provider of metrology solutions for the semiconductor industry. Headquartered near Paris, CAMECA has offices in China, Germany, India, Japan, Korea, Russia, Taiwan and the United States along with a global network of agents. Acquired in 2007 by AMETEK, Inc, a leading global manufacturer of electronic instrument and electromechanical products, CAMECA is now a unit of AMETEK's Materials Analysis Division.

More from Electrical Equipment & Systems