Mass Notification System delivers scalability, compatibility.
Press Release Summary: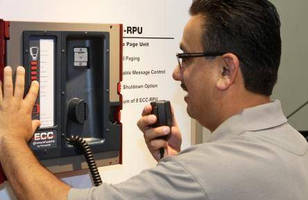 Emergency Command Center (ECC) integrates with fire alarms and other life safety systems, serving as fully supervised system for delivering critical messages. Scalability and configurability permits customization to communication needs of any building. Listed to UL 2572 standard, ECC features interchangeable components and supports up to 8 operator consoles placed throughout building. Sending of emergency communications through system is also supported via landline or cellular phone.
---
Original Press Release:

Fire-Lite Alarms' New Mass Notification System Enables Dealers to Take Command of New Market Opportunities



Non-Proprietary System's Highly Scalable, Configurable and Easy-to-Install and Operate Features Make it Ideal for Multitude of Dealers and Applications



NORTHFORD, Conn. – Fire-Lite Alarms by Honeywell (NYSE:HON) introduces the Emergency Command Center (ECC), a mass notification system capable of integrating with virtually every brand of fire alarm to serve as a fully-supervised system for delivering critical messages. Taking its established line of voice evacuation systems to another level, Fire-Lite Alarms has created the ECC to seamlessly interface with other life safety systems while carrying forward its consistent qualities of easy installation, maintenance and operation. The ECC offers a high degree of scalability and configuration that enable dealers to easily customize it to the communication needs of any standalone building.



The ECC is one system with a variety of interchangeable components that make it easy for installers, particularly fire alarm dealers, to meet a broad range of facilities' emergency communication needs.



"Fire alarm dealers and integrators are used to working in the life safety market, which is code-driven, so for them, emergency communications is a natural progression," says Stacy Deveraux, marketing director, Fire-Lite Alarms. "There's not a big learning curve. The ECC is one system with a wide variety of options for various consoles, which allow you to tailor the system for a wide range of end users."



Fire-Lite Alarms ECC is the first non-proprietary emergency communications system listed to the actual standard, not the draft, of Underwriter's Laboratories' (UL) 2572, which mandates equipment testing and performance standards for mass notification systems. The ECC also meets the emergency communications requirements set forth by NFPA 72 and UL 864 for commercial facilities, as well as the Unified Facilities Criteria (UFC) 4-021-01 document for mass notification systems on military bases and other Department of Defense properties.



The ECC can support any combination of up to eight operator consoles, which can be placed throughout a building to offer authorized users easy access to send emergency notifications. Taking real-life situations into consideration, such as tornadoes and intruder alerts, Fire-Lite Alarms designed the ECC to offer the unique capability of sending emergency communications through the system via a landline or cellular phone.



"If you can't safely get to a panel because you're under a desk or in a basement, you can call into the system from any phone to deliver a live voice message," says Deveraux.



As many as 14 voice messages can be customized to the general paging and emergency communications needs of any facility. By allowing a maximum of one minute per message, the ECC can support detailed instructions and bi-lingual communications. The ECC can also be used for non-emergency functions such as live paging or background music.



To support multiple audio zones and best fit facilities' emergency communications needs, an ECC system can expand to 24 speaker circuits with 1,100 Watts of amplification power. The ECC's combination of high power and modularity allows it to deliver the code-required levels of intelligibility needed within large-scale buildings and areas with high ambient noise, such as factories and military bases.



All Fire-Lite Alarms ECC and fire alarm systems are non-proprietary products, sold over-the-counter at security equipment distributors throughout the U.S. More comprehensive information on ECC systems and the opportunities it offers dealers to take command of new market opportunities are available at www.firelite-ecc.com.



MEDIA CONTACT

Beth Welch

203-484-6202

beth.welch@honeywell.com



About Fire-Lite Alarms

Fire-Lite Alarms, part of the Honeywell (NYSE: HON) Fire Solutions Group, manufactures fire alarm and emergency communication products for low to mid –size, commercial applications around the world. The wide range of addressable, conventional and voice evacuation systems designed by Fire-Lite comprise common features across all lines, making for easy installation, commissioning and maintenance.



About Honeywell

Honeywell International (www.honeywell.com) is a Fortune 100 diversified technology and manufacturing leader, serving customers worldwide with aerospace products and services; control technologies for buildings, homes and industry; automotive products; turbochargers; and specialty materials. Based in Morris Township, N.J., Honeywells shares are traded on the New York, London, and Chicago Stock Exchanges. For more news and information on Honeywell, please visit www.honeywellnow.com.

More from Electronic Components & Devices