Mass Flow Meters/Controllers helps conserve expensive gases.
Press Release Summary: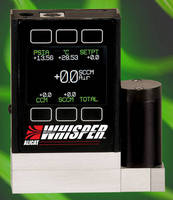 Based on laminar flow technology, Whisper series meets needs of process industries with systems using low pressure differentials or exotic gases. Flow body design and sensor achieve differential pressure range of .01–2.0 psid, depending on flow rate/configuration. Compatible with 30 field-selectable gases and gas mixes, products operate standalone or integrated into process control instrumentation. In addition to mass flow, single device measures pressure, temperature, and volumetric flow.
---
Original Press Release:

Ultra-Low Pressure Drop Flow Meters and Controllers Conserve Expensive Gases



MUMBAI -- Whisper Series From Alicat Have Industry's Lowest Differential Pressure Ranges



Alicat Scientific, Inc.'s new line of mass flow meters and controllers overcome the challenges of low pressure systems to deliver accurate metering and control. The Whisper series saves time and money in semi-conductor and other process industries with systems using very low pressure differentials or exotic gases.



All Alicat meters and controllers are based on its patented laminar flow technology, resulting in fast and accurate responses. The Whisper series also incorporates a very low differential pressure sensor and redesigned flow body to achieve a differential pressure range of .01PSID to 2.0PSID, depending on flow rate and configuration. Prior to Whisper series instruments, users relied on larger pumps or supply sources, higher feed pressures, or the use of more bottled gas to overcome pressure drop requirements imposed by mass flow instrumentation.



Compatible with 30 field selectable gases and gas mixes, Whisper flow meters and controllers can operate as standalone devices or integrate easily into process control instrumentation. In addition to mass flow, a single device quickly and accurately measures pressure, temperature and volumetric flow. For applications requiring precision gas flow control, Whisper series mass flow controllers deliver accurate flow regulation of gases with the ability to respond to upstream gas flow changes, attaining and maintaining flow setpoints in less than 100ms.



About Alicat



Alicat Scientific (www.alicatscientific.com) designs and manufactures mass flow devices used in medical and scientific instrumentation, as well as specialty industrial applications, for high-precision measurement of gas and liquid flows. Its products include mass and liquid flow meters and controllers; pressure controllers; digital pressure and vacuum gauges; portable flow meters; calibration standards; software and accessories.



Company contact: Gajendra G Kelkar, India Sales Manager - Alicat Scientific, gkelkar@alicatscientific.com, +91-22-6708 0415, +91-9930047455



Website: www.alicatscientific.com



About Halma



Alicat is a subsidiary company of Halma p.l.c. (http://www.halma.com/halmaplc_ch), an international market leader in safety, health and sensor technology. Halma is a public company listed on the London Stock Exchange and has approximately 4000 employees in 40 subsidiaries worldwide. Halma's subsidiaries make products that protect lives and improve the quality of life for people through innovation in market leading products which make its customers safer, more competitive and more profitable. These subsidiaries are assisting India's economy in areas such as energy, manufacturing, healthcare, water and waste treatment, construction and transport. Halma has a hub office in Mumbai.



For further news about Halma in India and to subscribe to the Halma India RSS News Feed please visit our blog at: http://halmapr.com/news/india.



Primary Media Contact: Mr. Kuniyur J. Srinivasan, srini@halma.com, 91-22-67080400



Secondary Media Contact: Mr. Damian Corbet, damian.corbet@halma.com, 44-1494-789152