Marposs Features in-Process Tool Monitoring System at Westec 2013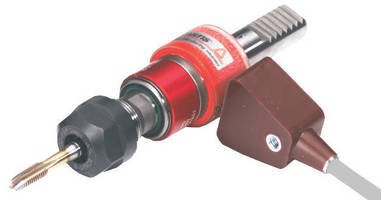 Auburn Hills, MI – Marposs Corp. will present its Artis CTM-V5 system with DDU-4 torque and feed force sensor for identifying tool breakage and worn tools at WESTEC 2013 in booth #1946.



The DDU-4 sensor is suitable for monitoring drilling and threading (tapping or thread forming) processes, as well as forming processes such as stir friction welding, by means of axial force and torque measurement. The sensor system uses a rotor based on the piezoelectric principle that can be mounted to tool holders, spindles or rotating or fixed shafts.



Use of the DDU-4 torque and axial force sensor system can contribute to improvements in both machine ability and product quality. Machine down time from faulty machining operations and excessive tool changes can be dramatically reduced. For machining applications such as tapping, the DDU-4 monitoring system enables a variety of quality control checks to be automatically performed during the machining process, including tool wear, tool breakage, deviating thread depth, bore absent, bore too small or large, and torn out threads. Benefits of the DDU-4 system include reducing the cost and complexity of post-process measuring procedures; preventing production bottlenecks, as quality assurance measures can be implemented less frequently; and the automatic accumulation of data for traceability and tool manufacturing reference.



In addition to the DDU-4 force and torque sensing system at WESTEC, Marposs will also present its Artis Genior Modular system for tool, machine and process monitoring.



Complete information on the Artis CTM-V5 system with DDU-4 torque and axial force sensor is available by contacting Marposs Corp. by phone: 248-370-0404, by e-mail: marposs@us.marposs.com or by visiting www.artis.de/en/.







Related