Marking System handles glass vials and syringes.
Press Release Summary: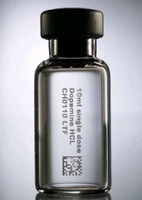 Non-ablating VALIDATE System permanently marks fixed and variable information including text, logos, lines, and 2D bar codes into glass. Non-erasable, high-contrast mark provides first layer of protection against counterfeiting. It withstands abrasion as well as elevated temperature conditions. VALIDATE system integrates into existing fill/finish equipment and can be customized to suit production facility's needs.
---
Original Press Release:

ATS and tesa Partner to Offer VALIDATE(TM) Non-ablating, High Contrast Marking Solution for Glass Vials and Syringes.



Cambridge, ON - ATS Automation Tooling Systems Inc.and tesa announced a revolutionary new marking technology for pharmaceutical glass marking applications. This alliance teams ATS, a leading provider of automation solutions with tesa, a leading supplier of tape and high performance label products to provide a non-ablating marking system for glass vials and syringes. The VALIDATE system uses a laser and proprietary consumables from tesa to permanently mark fixed and variable information including text, logos, lines and 2D bar codes into the glass. In fact, the non-erasable, high contrast
nature of the mark provides the first layer of protection against counterfeiting. By combining the consumables supply expertise of tesa with the production solution from ATS, the customer gains access to a unique, multi-layered marking solution.

"While initially conceived as a marking technology to combat counterfeiting in other industries," says Dave Adams, Market Manager, tesa, "the non-erasable nature of the VALIDATE marking solution allows the same anti-counterfeiting properties to be utilized in pharmaceutical applications." Rob Faulhammer, Director of Business Development with ATS adds "From its permanent nature to its ability to combine covert and overt security features into the mark, the VALIDATE marking solution can work as a stand alone anti-counterfeiting solution or in conjunction with other technologies to
provide ultimate proof of origin." Due to the ability to mark 2D or 1D bar codes as well as text onto the glass, track and trace system functionality can be incorporated with the mark as well as guaranteeing the end user without a bar code reader that the vial or syringe originated in the intended pharmaceutical supplier's factory.

ATS tailors the VALIDATE marking technology to the end user's application. With different customers come different marking system needs and ATS is ideally positioned to adapt line speed, information to be marked, material handling, changeover, line management software and other factors to the individual customer's needs. In fact, the VALIDATE marking solution can be ideally integrated downstream of the ATS Lyoscan(TM) vial inspection system to provide a complete inspection and labeling solution.

Features include:
o Non-erasable, good contrast mark
o High marking speed
o Ability to mark variable information including text, 2D bar codes, logos and lines
o Production solution can be customized to suit the production facility's needs
o Integrates easily into existing fill/finish equipment
o Mark withstands abrasion as well as elevated temperature conditions
o Consumables supply from tesa, a world class label and tape supply company
o Production equipment supply from ATS

About ATS
ATS Automation Tooling Systems Inc. (www.atsautomation.com) is the industry's leading designer and producer of turnkey automated manufacturing and test systems, which are used primarily by multinational corporations operating in a variety of industries including: automotive, computer/electronics, healthcare, pharmaceutical and consumer products. The Company also makes precision components and subassemblies using its own custom-built manufacturing systems, process knowledge and automation technology. Through Photowatt International S.A., and Spheral Solar Power Inc., ATS is an emerging leader in the rapidly growing market for solar energy cells and modules. ATS employs approximately 4,100 people at 26 facilities in Canada, the United States, Europe and Asia-Pacific. The Company's shares are traded on the Toronto Stock Exchange under the symbol ATA.

For digital files visit www.atsautomation.com/media, or for more information, contact:
Jim Beretta
Marketing Manager
ATS Automation Tooling Systems, Inc.
250 Royal Oak Road
Cambridge, ON
Canada N3H 4R6
Phone: 519-653-6500
Fax: 519-653-6533
e-mail: info@atsautomation.com

More from Controls & Controllers