Marking Supplies help lean manufacturers organize workplace.
Press Release Summary: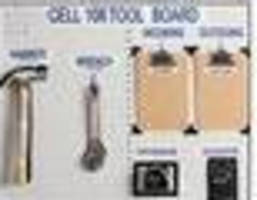 Helping manufacturers to organize workplace and manage inventory, 5S Marking Supplies are available in continuous rolls and die-cut shapes, in rolls of ¼- or ½-in. wide tape, L- and T-shaped corner markers, and 12 in. wide rolls of vinyl for cutting out shadows to show shape of object. Manufactured of vinyl with adhesive backing, supplies resist scratching and abrasion and last 2-4 yr in outdoor use. They are resistant to cleansers/solvents and stick to range of surfaces.
---
Original Press Release:

Brady Worldwide, Inc. Introduces 5S Marking Supplies for Lean Manufacturers



Brady Offers Much-Needed Solution for Marking Tool Boards, Workbenches and Above-Floor Spaces

MILWAUKEE, WI - Brady Worldwide, Inc. (NYSE: BRC) maintains its position as a global leader in lean manufacturing and visual factory management with the launch of its latest visual workplace products - the new 5S Marking Supplies. Designed to help lean manufacturers organize the workplace, control space usage, and manage inventory and tools, Brady's 5S Marking Supplies are an effective solution for marking the location of items on tool boards, workbenches, storage shelves, job staging areas, desktops and more.

5S Markings improve space utilization, tool control and inventory management
Lean manufacturers around the world have implemented a methodology for workplace organization called 5S to help them eliminate waste, improve work flow and reduce downtime at their facilities. 5S uses border lines and ID labels to clearly identify proper storage locations for every item in the work environment. If every tool has a designated location, employees waste less time looking for misplaced items and it is visibly obvious when a tool is missing from its assigned location. 5S markings can also be used to indicate maximum stocking quantities, signaling when to reorder, and thereby providing enhanced inventory control.

Numerous 5S marking products exist for designating locations on the shop floor, but until Brady's 5S Marking Supplies, there were very few products available for marking the locations of hand and power tools, oil cans, parts bins, clipboards, boxes and other items that are stored above the floor level of the facility. As a result, manufacturers had to mark these spaces with temporary, makeshift solutions like electrical tape, masking tape, or magic markers. Brady's new 5S Marking Supplies give manufacturers a more permanent, durable solution that is professional-looking, easy to apply and adaptable for a variety of applications.

5S Markings for use on tool boards, workbenches, desks, and more

Available in continuous rolls and die-cut shapes, 5S Marking Supplies allow manufacturers to quickly apply borders, corner marks and outline silhouettes (or shadows) to a wide variety of surfaces. Rolls of ¼- or ½-inch wide tape are available for marking off square and rectangular borders. Alternatively, L- and T-shaped corner markers are offered for situations where a full outline is not needed. 12"-wide rolls of vinyl are also provided for cutting out shadows that show the shape of the object - making it easy to determine missing items at a glance.

Made of .125 mm vinyl with industrial-grade adhesive backing, Brady's 5S Marking Supplies are designed to resist scratching and abrasion and can last up to two to four years in outdoor use. They are easy to apply and do not peel, crack or fade when exposed to cleansers or solvents. The marking supplies stick to a wide range of surfaces, including contoured and textured surfaces, metal, plastic, glass and wood, and are available in yellow, black, red, blue and green.

Brady Corporation offers online drawing for FREE 5S Marking Kit

Visit www.bradyid.com/visualworkplace between now and December 31, 2009 for a chance to win a Brady 5S Marking Kit, including a portable IDXPERT(TM) Continuous Only label printer, aisle marking tape, workbench border tape and corner marks, vinyl rolls for creating tool shadows, and two types of striped hazard marking tape - a total value of $495! Five winners will be randomly chosen on January 4, 2009.

For more information on Brady's new 5S Marking Supplies, or to learn more about Brady's full line of visual workplace and lean manufacturing solutions, visit www.bradyid.com/visualworkplace.

About Brady Corporation

Brady Corporation is an international manufacturer and marketer of complete solutions that identify and protect premises, products and people. Its products include high-performance labels and signs, safety devices, printing systems and software, and precision die-cut materials. Founded in 1914, the company has more than 500,000 customers in electronics, telecommunications, manufacturing, electrical, construction, education, medical and a variety of other industries. Brady is headquartered in Milwaukee and employs more than 7,800 people at operations in the Americas, Europe and Asia/Pacific. Brady's fiscal 2009 sales were approximately $1.2 billion. More information about Brady Corporation is available at www.bradycorp.com and to learn more about Brady's complete line of products and offers visit www.bradyid.com. In Canada visit www.bradycanada.com.

More from Electrical Equipment & Systems